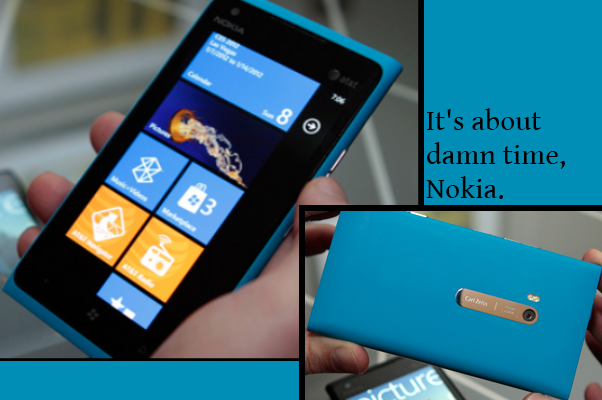 I've been known to go on a few rants about Windows Phone. Not the actual Operating System, but the people who are behind it. Almost a year ago, Nokia joined hands with Microsoft to fix their lack of a smartphone OS and  Microsoft's lack of notable hardware. Since then we've seen one US phone released, and it wasn't the sexy one, the one us WP7 fanboys wanted to see. Hell, even the Lumia 800, which many thought would be the flagship Nokia/WP7 device, lacked a front facing camera and – oh yeah – a US release. That's a quick recap of things that have pissed me off about WP7 recently.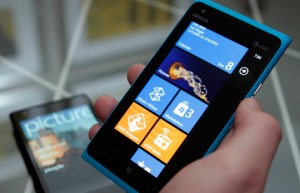 However, it appears that Nokia has been listening to me (and others like me) and revealed the Lumia 900 at CES today. It's got all the specs we want – 4G LTE, a front facing camera, and a 1840 mAH battery (big enough to function in airplane mode as an MP3 player for more than two and a half days, according to Nokia). What I'm most excited about is the inclusion of the new mobile broadband spec, AT&T's LTE network, as well as the almost-mandatory front-facing-camera on top of that 4.3″ AMOLED ClearBlack display, well known for the depth of black it produces which should help those tiles pop.
It's rocking that pretty polycarbonate unibody design, giving the phone rigidity as well as a nice burst of color. Underneath is a Qualcomm Snapdragon APQ8055 + MDM9200 1.4GHz processor to make sure you never have to wait more than a few blinks for your apps to load. The phone also has an 8MP rear camera with a dual LED flash that shoots 720p video at 30fps with an f2.2/28mm aperture to speed up camera operation and absorb light better.The front-facing camera is a 1MP, f2.4 little guy who can also handle 30fps for your Tango needs, until Microsoft gets Skype ready for Mango. As for measurements, the 900 weighs in at 5.6 ounces, which isn't too bad for that beefy battery, and 5 x 2.7 x .45 inches worth of phone – not a Skinny Minnie by any means.
It's been said that Microsoft just needs a "Droid Moment" – a breakout device that establishes them in the mind of the consumer as something other than a quirky little brother to WinMo. This could very well be that moment.
We're excited to see how well they market this phone, since it already stands out from the crowd in terms of looks. Maybe if Microsoft started putting ads back on TV, the average consumer might be able to pick one out from a lineup.