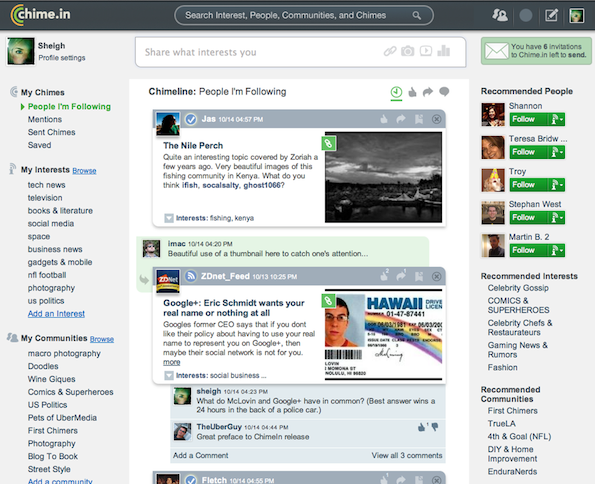 UberMedia, known for their Twitter applications (that Twitter shut down for a while) was rumored to be starting its own service. Well, Rumor no more. CEO Bill Gross confirms Chime.in, a platform based on monetization for publishers. However, it's not a direct competitor to the giants. Posts (called "Chimes") created are easily shared to Twitter, Facebook and Google+. Post types include polls, video and pictures, and appear to be a single location from which to post, and that gets shared to the various social networks. Chime.in then aggregates responses and links them back to the original post, regardless of network.
Also different is the way in which you pick and choose your followers. You select your interests, and Chime.in offers you people with similar interest, and allows you to only follow their chimes of a certain category, thus leaving you with the meat and potatoes of the content you want, and not the often silly and mindless posts that Gross calls "noise."
Influential people and companies should be attracted to the advertising scheme. If you decide to post ads from your account (without input from Chime.in) then you keep 100% of that money. If Chime.in offers you ads to post, then the profits are shared 50/50. It seems that UberMedia took notes on what Twitter did to annoy users, and made them better.