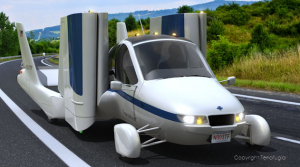 13 year-old me is psyched right now. Terrafugia Inc, a company based in Woburn, Massachusetts, has received specific exemptions from the National Highway Traffic Safety Administration allowing them to continue to develop their "Transition" vehicle, which (appropriately) transitions from plane to car and back again.

The exemptions it has received are specific to vehicles which drive on roads and are capable of flight, which means flying car. They allow for plastic windshields instead of glass, and special tires.  The glass replacement is a weight-cutting measure, since a small plane has a very small weight limit, and the tires are specifically designed to handle the stresses of landings, but are otherwise not approved for road use.
Other rule-bending comes from the FAA, which granted a Light Sports Aircraft label, even though the plane weighs 110 lbs more than is typically allowable for that classification. This classification means that the pilots would only require a Sport Pilot certification, a level created in 2004 in order to make non-commercial aviation more easily accessible – a sure selling point for the aircraft.
Of course, this is just a pipe dream, right?  Well, according to the company, the Transition is expected to be delivered late next year.