By now you've heard about Google Plus, the newest social network, and the only one that people are actually clamoring over. Eric wrote up a piece on it, and I'm here to share my thoughts.
When I first got my G+ invite, I was pretty excited. I mean, I'm a geek. Why not get my panties in a twist over something that Google does? The excitement quickly wore off when I realized I only had one friend, and I closed that tab and vowed to return later. A few hours later, I had notifications out the wazoo from people adding me to their circles.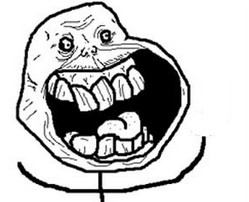 After adding them to my own circles, I saw how nifty G+ can be. The chatter flows easily and quickly, like Twitter (although, without the mandated 140 character limit [even though most posts are well under that] ) but with the link previews of Facebook. You can also upload and view pictures in-line.
The +1 that Google unveiled earlier this year is carried into G+ in the same vein as the Facebook "like" but your +1'd search results are not posted to your feed (I suspect this will be implemented later). You can +1 your friends posts, and they get a happy feeling inside that someone loved their post.
That ugly black bar that Google stuck on top of all their sites remains, but it now carries a link to Google + which is nice for when you need to scratch that social itch.  The left side of the bar carries your notifications, which turn from grey to red when you've got some interaction.
But how do you use it? Well, any way you please. The one thing that stands out from both Facebook and Google is that you can post text, pictures, private messages and targeted posts from a single interface, all by tweaking Circles/sharing options and Reshare options from the home page.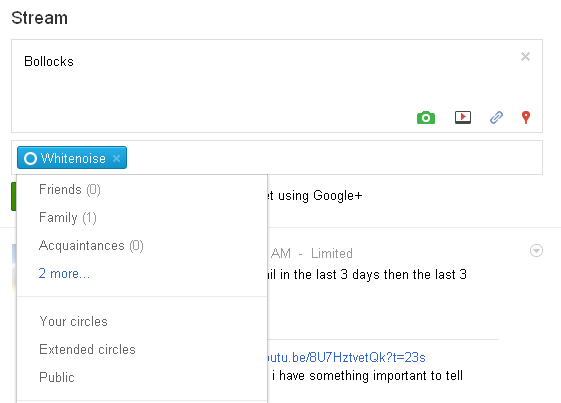 Circles allow you to share your information with only certain groups of folks, or even a single person. Say I want to toss an idea out to only Noisecast peeps: I just add my Noisecast circle to the share settings. All of them are also in my Whitenoise circle, so they get my useless random posts as well (lucky them!)

But what about Private messages, Chris? That's easy, Reader! Just type the name of the person you want to share with in the Share box, make sure there aren't any other names there and send your message, then click the edit button  (as seen above) then "Disable Reshare". This means that only the person (or people) you sent the post to, will be able to see it, and they won't be able to reshare (the "retweet" of Google +) to other people.
Pictures and Video are easily done via the post box, with options to upload directly, or link to YouTube/imgur/twitpic or whatever third party is holding your cat photo hostage.
But what do you think, Chris? GIVE US YOUR OPINION, WE NEED IT TO MAKE DECISIONS!
Ladies and gentlemen, your worship of me is unnecessary, but appreciated. I think the service is excellent, and with all the geeky people that have already added me, I can tell that switching over will be easy. There was even a tool for importing your Facebook pals to Google +, which was blocked by Facebook (Dick move, Zuckerberg).
But getting my family (who really enjoy Facebook, despite any flaws that may arise) to switch over won't be easy. Google + is easy to learn, but telling someone that they should learn a new social network when all they want to do is see adorable pictures of my daughter and occasionally post pictures of their own is not a task that I wish to undertake. It is this entrenched user base, the "I barely get Facebook, don't make me learn something else" group will keep Google + from outpacing the big FB.
For more tips on how to use Google Plus, check the PC World link below.