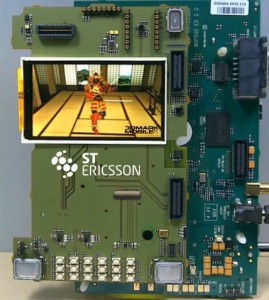 Back in 2010 Microsoft spelled out the hardware specifications manufacturers must follow in order to make a certified Windows Phone 7 device, barring manufacturers from using sub-par components like processors that clock under 1Ghz. Up until now, Windows Phone 7 devices have been powered by Qualcomm processors, specifically of the Snapdragon family. Even the lackluster and low-end HTC Trophy which Verizon is finally releasing with plenty of eye-rolling has a Snapdragon under the hood. Today the Qualcomm monopoly in WP8 devices comes to a close as Microsoft has given the green light for its upcoming Nokia handsets to be fueled by an ST-Ericsson U8500 processor. Yes Windows Phone 8. That's the next generation of Windows Phone 7 scheduled to arrive with the Nokia handsets in 2012. The chip isn't a lightweight, bubbling to the brim with dual-core goodness and being compared quite positively to the Qualcomm Snapdragon. It's a system-on-a-chip that bakes Bluetooth, GPS, WiFi, and HSPA+ all into a neat and compact wafer.
ST-Ericsson is a fabless joint venture between Ericsson and STMicroelectronics that has had a close working relationship with Nokia since its creation in 2009. In fact, STMicroelectronics has been supplying Nokia for years before that so you can guess that ST-Ericsson may have been a bit worried when Redmondpoo was created, considering Microsoft's reliance on Qualcomm for its WP7 devices. Now their worries are laid to rest, as the balance in the European mobile manufacturing utopia (Europia, get it?) is maintained.
Microsoft has taken a very interesting approach to handset manufacturing that's more middle-of-the-road than that of Apple or Google. Sitting on opposite ends of the extreme, Apple rules its hardware specs with an iron-fisted "you shall not pass" mentality, ensuring that all iPhones and iPads are virtually identical in hardware, ensuring that all users have the same exact experience across the board. Google has a very lax approach when it comes to manufacturers, allowing for a wide array of hardware combinations to provide users with plenty of alternatives from low-end to high-end. Microsoft understands that consumers want choices so it is giving manufacturers some wiggle room to give consumers just that, but not without sacrificing the experience consumers will get on their Windows Phone devices.
ST-Ericsson has been struggling a bit with their financials recently, suffering from a $179 million loss and a 33% year-over-year drop in first quarter revenues. Powering Nokia's WP8 devices was a much needed deal for the company and hopefully will turn the tides financially for them. Hooray Europia!