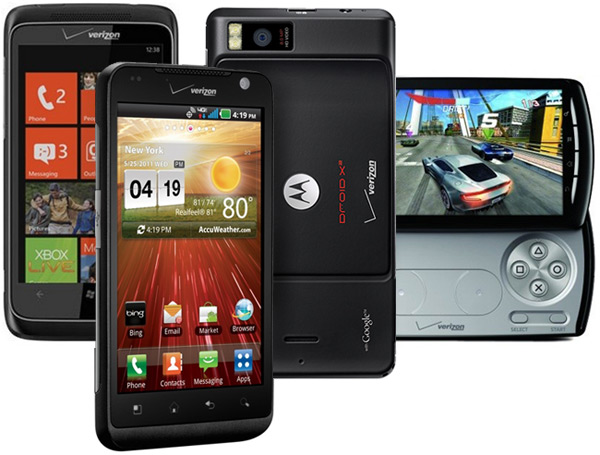 Verizon launches a quadruple threat today and it packs quite a mean punch. For those of you on Big Red that have been dying to get your paws on a Windows Phone 7 device, your day has finally come! The HTC Trophy may be a mid-range WP7 device but snatching it up for $150 (online price, $200 retail) on a two year contract also grants you a free Xbox 360 game. Of course, it's not just any game, so don't get your hopes up of getting LA Noir with your new phone. The three game choices are Kinect Sports, Halo Reach, and Lode Runner.
Also available today is the long awaited Sony Ericsson Xperia Play, the PlayStation certified Android phone. Coming with Gingerbread out of the box and 6 pre-loaded games to get your game on, it will run you $200 on a two year contract. Also to sweeten the deal is the recent news that Minecraft will be available on the Xperia Play so you can enjoy all the blocky green pixel dicks you can handle on the go!
Not getting as much press is the Droid X2 that is also hitting Verizon today. The sequel to the widely successful Droid X (and Vitto's pride and joy) is similar to its predecessor in almost every way except for processor and screen resolution. The X2 ditches the 1 Ghz TI OMAP processor for a dual-core 1 Ghz nVidia Tegra 2 and the screen resolution gets bumped from 480×854 pixels to 540×960 pixels. The X2 does come with less built in storage though with 8GB as opposed to the 16GB the original Droid X came with. It's $200 for a two year contract and runs Froyo, with Gingerbread heading its way by the end of Q3 2011.
The LG Revolution is the only LTE-capable device that is launching today and also the most expensive, breaking the bank at $250 for a two year contract. A 1 Ghz Snapdragon processor, a 4.3″ display with an 800×480 pixel resolution, and 16GB of storage built in will let you stream Netflix on you go on Verizon' super-duper 4G network. Of course, it can't be a modern Android device without a modern Android operating system, so it's coming with Android 2.2 Froyo. Oh wait…