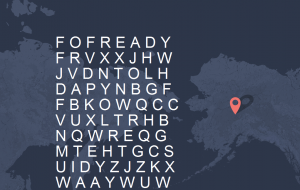 Well, twenty-four hours later and the site has not changed on any level I can see at the viral website www.thelastelection14.com .
Just a few quick notes:
1) The Russian on the tab reads "Вы удерживайте клавишу" which, according to Google translate, is "You hold the key". Not the first time I have seen that phrase on a viral website, or in a mystery script, for that matter.
2) Checking out the page info, the map is centered on Brooklyn, not sure if that is significant, it does require you to move the map around to find the marker over Alaska.
3)The cypher text is there as well, so you can copy and paste it somewhere. I have not had a chance to read any theories elsewhere regarding what it says, not sure if there is any buzz yet.
4) I did receive an email last night from someone who says they are from France and that they had found the website as well. They stated that "when you try to reach the same location with Google maps exactly in the same location.. You will be able to find something in the middle of a forest.. I don't really know what it is but it looks like a Secret military Base.." I have not had the opportunity to verify this, but it is probably worth checking out.
I will see what I can find this weekend and keep updating here. Whatever this is, it is at least interesting on the social web level.
Any theories? Any thoughts? Anything interesting? Post a comment below and we shall find out what 'key' we hold.