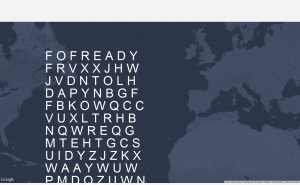 So….
A message woke me up this morning, a friend wanting to know if I had heard anything about a website, or what it was referring to: The Last Election 14 .
Intrigued, I shook off sleep after going to bed way early this morning and took a look.
There isn't much there. A quick web search and I was able to find one UFO and conspiracy website that talked about it, briefly, since its debut about a week ago.
That was it. Well, except for a countdown clock that expired at midnight tonight, March 20, 2014, on the webpage.
The members of that board only had a handful of posts, basically agreeing that it was some kind of viral marketing.
Now though, as I am doing a quick write up, it has changed. The page is a map with a marker in Alaska and some kind of cypher across it and the tab for the site has what looks like Russian on it.
So, what do you think this is? If you check it out as the evening progresses, it appears that it will be updated periodically, feel free to post any thoughts or theories below. I will look tonight after I get home and post what I find in the morning.