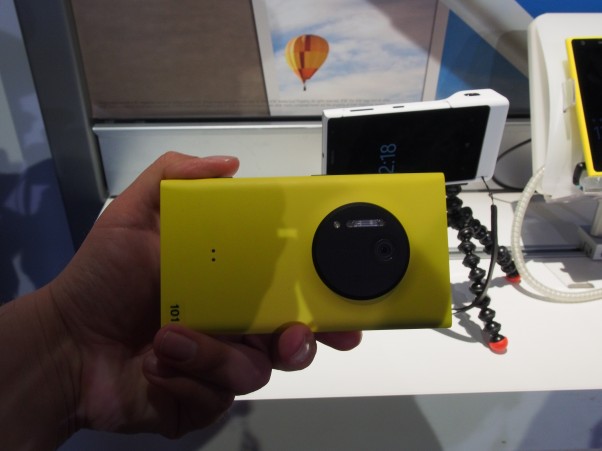 Make no mistake about it, the Nokia Lumia 1020 is official an is every bit of the camera it is advertised to be. Nokia is definitely betting the farm on the belief that consumers are looking to replace their cameras with their phones and with the Lumia 1020, you'd definitely have something that can make your current cheap-o point-and-shoot seem obsolete.
The Lumia 1020 is by phone standards still a hefty phone but despite it's relative thickness, it still feels remarkably comfortable in your hands. At roughly 5-inches tall, 2.8-inches wide, and 0.4-inches thick, the Lumia is a bit thicker than say an iPhone, but manages to slim down from the Lumia 920 while managing to pack in that 41MP image sensor. If you're into larger screens, the 4.5-inch AMOLED display provides tons of real estate without being grotesquely large (looking at you phablets) or uncomfortable in one-handed use.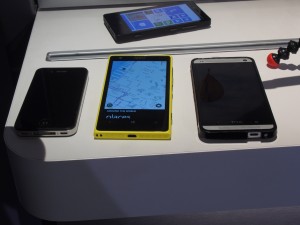 Powering the Lumia 1020 you'll find a 1.5GHz Dual-core Snapdragon S4 processor, 2GB RAM, 32GB of storage space (with an additional 7GB of SkyDrive space), and of course, Windows Phone 8. Internal radios include Bluetooth 3.0, WiFi supporting a/b/g/n bands, and NFC for "secure funds transferring" and file sharing.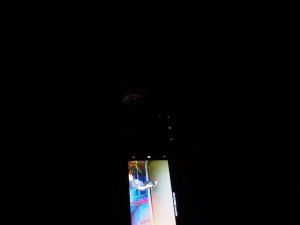 Again, the biggest draws of the phone are without a doubt the capabilities of the camera. The Lumia 1020 boasts that 41MP sensor to push out amazing images in near total darkness (sadly the Nokia rep would not let me get a copy of the picture in the demo).
As you can see in the image below, when presented into a controlled, dark-space the Lumia 1020 was able to capture a break-dancer in motion. The image from my Lumia 810 unfortunately is barely noticeable and another journalist's iPhone shows a blurry screen. Unfortunately we do not have a copy of the 1020's image for comparison but you can see the image from my 810 here.
We mentioned that this a camera with a phone attached to it, and well, we'll stand by that. As with every other Lumia that has been released, the hardest sell for consumers is not the hardware (which in all Nokia fashion is beautifully designed, attention grabbing, and durable to boot); instead the Lumia's biggest challenge will be convincing customers to invest into Windows Phone.
Today, Nokia announced that they will be getting some Instagram support via their partnership with app maker Hipstagram. Through this partnership, Hipstagram will be offering their Oggl Pro app on the Windows Phone platform with the ability to share images with all the big social networks – most notably, Instagram.
Check back a little later today we'll have more pictures and some hands on video.