When you get on a preview list, which is great, you get everything the company wants to promote, which will have some stuff that is not so great. Wading through the previews takes time, but gems can be found!
Here are my Dark Horse picks for Part 2 of "Dude, what was released the last few weeks?"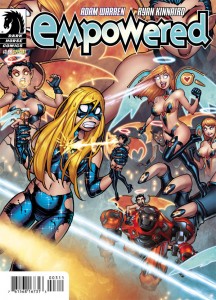 Empowered Special #3: Hell Bent or Heaven Sent
Empowered has the reputation of being the 'lamest' crime fighter in the biz. Cursed with a super suit that disintegrates during battle in the most inconvenient ways, she has to prove herself time and time again as she is constantly overpowered and taken hostage.
In this issue, Emp is finally trusted to pull guard duty at the inter-dimensional dumping ground for 'villianware' left over after the heroes defeat whomever is trying to take over the city, destroy the superheroes, rob banks, you get the picture. Soon after she arrives, things go awry and Emp alone can figure out what is wrong and save herself and her friends from being immolated by the sun.
Definitely tongue in check with a message, this well-written special and its slightly over-the-top artwork is a great stepping stone into what I can suspect will be a great series no one should miss.
In the city of Alexandria, there is a vampire, the non-sparkly variety. Saul is empty of his humanity, a hollowman, and content with spending his eternity practicing the human mask he wears and writing in his journal. His existence changes when his path crosses that of Ashley, a serial killer looking for the truth through blood.
Agent Quinn, a vampire attack survivor, heads the FBI pursuit of a killer. Unfortunately for Saul, Ashley's bodies lead to him. To complicate matters, the careful Saul and the reckless Ashley are drawn to each other…this may not end well…
I first read issue #3, then was able to buy issues #1 and #2 and I am impressed with the story. The vampire and his society is well thought out and there is the story of some mysterious text and Ashley's writer father tying the back story together.
I am very interested as to where this story goes.
Collected in a one shot issue from the pages of Dark Horse presents, this is a tale of San Gee, merc for hire, in the city now known as 'Rotten Apple', hired to find an artifact that may save or destroy humanity.
San Gee has dangerous powers she fights to contain, a psychic zombie sidekick and suited, masked competing mercenaries trying to out maneuver her and claim the recovery fee.
Yes, this is back to the old post-apocalyptic theme, but the story has me hooked. Rotten Apple serves as a great introduction to what I hope will be a new series of stories.
I mentioned this title before and, obviously, I believe it is worth mentioning again. After reading the advance copy of #2 online, I bought issue #1 and #3 (the store was shorted issue #2, damn Diamond) of this five issue series.
In issue 1, we are introduced to the villain, Nimble jack, a being who feasts on the souls of man and considers those of the insane a delicacy, better even after they have ripened with age. Jack is the one who makes Declan the man he is today, growing colder as he uses his ability to help people by curing them of their insanity.
Issue 3 has Declan and Reece sliding between worlds trying to escape Nimble Jack and a further explanation of what has been happening to Declan.
Loving the story and Juan Ferreyra's artwork. If you haven't checked this series out, I give it a solid recommendation.
Okay, this will do it for Part 2, still more to come from Image and Marvel and a few killer Dark Horse titles so stay tuned!