And here we are, we have come full circle. A month worth of Dark Horse and there are still titles to talk about!
So, without further adieu, let's start with..holy crap, it is ANOTHER Brian Wood title…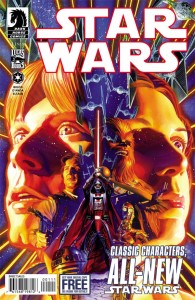 Star Wars #1
Two months after 'The Victory at Yavin', the destruction of the Death Star still echoing through the galaxy, the Rebels are on the run and looking for a new planet for a base of operations. Faced with the very real possibility there is a Republic mole within their ranks, Leia is given the task of assembling a covert team to find the spy and/or find a home for the Rebellion.
Meanwhile, Darth Vader is recovering from the defeat at the hands of the Rebels, especially by one that haunts his thoughts in particular, Skywalker. Required to redeem himself, Vader is sent on a secret mission where he must restore his honor or the Emperor will make sure it his last mistake.
Brian Wood does an excellent job sliding us back into the Star Wars universe, neatly sandwiched inside the original trilogy, with all of our favorite characters along for the ride.
The cover art is by the famous Alex Ross and the interior is done by Batman: Arkham City's Carlos D'Anda.
Part of a three issue story arc 'In the Shadow of Yavin' in, from what I can tell, a new ongoing series, Star Wars #1 is this post's must read.
Another title I was excited to learn about when I received the preview email. Dark Horse is retelling one of the best known tales from Japanese history, the story of 47 Ronin on a mission to avenge the wrongful death of their master.
This is a legend of honor and the Samurai code which exists with the permanent subtitle "To know the story of the 47 Ronin is to know Japan."
Mike Richardson is this adaptation's author, and while I am not readily familiar with him, I am familiar with the rest of the team. Stan Sakai, of Usagi Yojimbo fame, is the artist and Kazou Koike, of Lone Wolf and Cub, is the consulting editor.
Issue #1 came out last November so do not be daunted that this is issue #2, there is plenty of time to pick this up and get on board!
Mike Mignola's return continues as Hellboy takes a guided tour of Pandemonium, the capital of Hell.
Who is Hellboy, where did he come from, and what is his destiny, all questions are promised to be answered within this story in Mignola's signature artistic style.
I keep seeing articles about every issue selling out, but do not fret, there are plenty of copies around for every Hellboy fan, new and old.
As a quick reminder, Conan #12 and Ex Sanguine #4 come out this week, January 16th, 2013. Conan continues with the plague still moving through the Tigress with death on its wings and Ex Sanguine, which snuck up on me, expands on the back story of the unusual pair as well as a twist that sort of blindsided me.
Okay, this will do it for Part 3. Coming up next, Image and Marvel (we are almost caught up, I swear!).