As in my previous review, I decided to take a quick spin in a Kia Optima Hybrid just to see what it's like. Now, I'm not a car person. I prefer SUVs and trucks, but I appreciate the savings at the pump that comes with a car, and that's what led me to pick the hybrid for this test drive, rather than the turbo.
Interior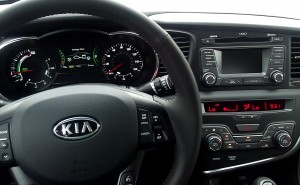 The interior is rather roomy, with ample leg room both in front and in back (with the front seat set for a tall person). I am 6′ 1″, and I had plenty of room. The seats are relatively comfortable. They might be considered a bit stiff, but they're nicely contoured, which is more than I can say for some other cars I've been in. Heat/AC vents in the rear are also a nice touch. The dash seems a bit busy, especially the gauge cluster, but I quickly adapted. The steering wheel houses vital controls for the stereo, Bluetooth calling, and the Eco setting.
This model also has the UVO system from Microsoft, a voice activated system that houses a touch screen and backup camera, as well as a whopping 700 MB storage device that can hold your mp3s. All of this works as advertised, which is not a negative, but it wasn't outstanding, either.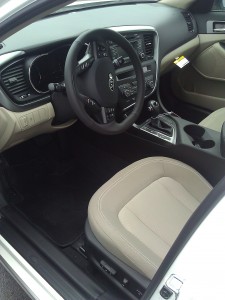 The gauge cluster, as I mentioned before, looks a little busy, especially on start up, where it flashes a severely unnecessary video of the car you're sitting in before loading the hybrid's power information. While running, the image will show you how much charge is going out of (or into, via the regenerative braking) the battery, and how much – if any – the motor is helping. The salesman mentioned that it has the ability to stay purely on electric power up to 70 miles per hour, but I wasn't paying too much attention.
The interior is comfortable, overall. I didn't feel cramped like I usually do in cars, and everything was well within reach, but not crammed together. The styling of the interior didn't stand out, and that's a good thing. A good interior (to me) is one that isn't noticed and allows you to operate the vehicle without reaching for the manual. The trunk is ample, even with some space being sacrificed for the batteries (and their 10 year warranty) and has an opening that would allow larger objects to fit easily.
The Ride
You may not expect much from a hybrid in terms of performance, but that's changing. Even in Eco mode, there was plenty of get-up-and-go coming from the 40 horsepower, 154 ft lb electric motor. This meant I didn't fear for my life as I pulled onto the busy road by the dealership. A slight hesitation in the beginning never seemed to go away, but it only happened on initial acceleration. With Eco off, the car was surprisingly sporty with help from the 205 hp/195 ft lb , 2.4L I-4 engine. The six speed automatic transmission had no problem finding the right gear on acceleration, but was slightly hesitant when downshifting. The manual control came in handy here.
Even at 60, the car is relatively quiet. It easily allowed for conversation. The ride is sporty, meaning it corners decently without the feeling of body roll, but that also means it's a little rougher than your average Mercedes. Visibility isn't an issue, as long as you're used to driving a car (coming from a Jeep, it's severely limited, but that's an unfair comparison).
Overall, the Kia Optima Hybrid is a good car for the price. It looks nice from the outside, is unobtrusive on the inside, and can save you a bit of gas on your commute without sacrificing speed as some hybrids will. I am unsure if I would buy one, simply because it didn't feel as nice as I would like, but at the price point, you're not going to get a whole lot better. In terms of available hybrids, it fits squarely between the Prius and the Lexus: It's a good, average car, with better than average fuel economy.