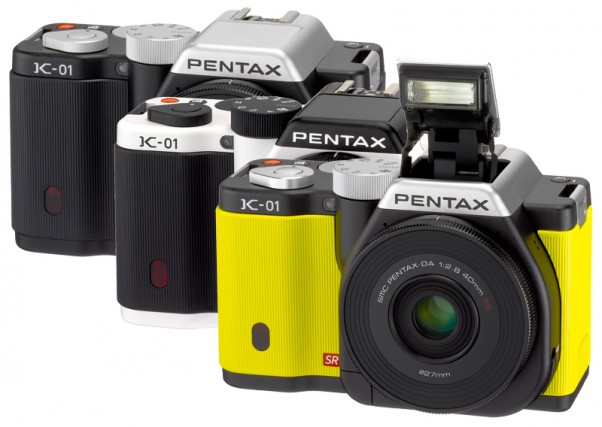 Olympus wasn't the only camera maker to stun us with a new high-end mirror-less camera. The folks over at Pentax made their K-01 (pronoucned "K zero one") announcement recently, and as you can see above, it is a thing of beauty.
The K-01 is a much needed revision to Pentax's line of MILC after the Pentax Q left enthusiasts with much to be desired, the K-01 more than makes up for and we're not just talking about looks. The K-01 comes with all that we now expect from these tiny wonders like 1080P video recording, 6 frame-per-second burst mode, "artistic filters" and in-camera HDR, but what truly sets the K-01 apart from the rest is its lens compatibility – you can use any of the K-mount lenses Pentax made, makes, and has in the works. It's a strong legacy that covers decades of lenses made for both film SLR's and newer DSLR cameras.
Also announced was Pentax's new smc PENTAX-DA 40mm pancake lens; the smallest available lens of its kind on the market and a natural fit for their new K-01. Both feature designs by Marc Newson and borrow from the retro styling of RIOCH's rangefinder cameras (for those of you keeping score, RIOCH is PENTAX's parent company).
You can expect both the K-01 and the DA 40mm pancake lens sometime in March of this year. The camera body will go for about $750 and a the DA 40mm lens will set you back about $250. Both will be available as a kit for $900. Check the press release below for more info.
[toggle_simple title="PENTAX RICOH IMAGING AMERICAS CORPORATION INTRODUCES PENTAX K-01 DESIGNED BY MARC NEWSON" width="Width of toggle box"]
DENVER, CO February 2, 2012…When is a camera more than a photographer's tool?  The answer is when it's an object designed by Marc Newson, one of the most acclaimed and influential contemporary designers.
PENTAX RICOH IMAGING AMERICAS CORPORATION introduces the Marc Newson designed PENTAX K-01* interchangeable lens camera (ILC).  The new PENTAX K-01 is another bold effort from the manufacturer that is known for pushing camera size, color, durability, and now, design, to the limit. Widely known for designing a wide range of objects from furniture and household products to bicycles, cars, aircraft and yachts, Marc Newson has had collected works displayed in The Museum of Modern Art (MoMA) in New York City and many other major museums.
*prounouced kay zero one.
The contemporary, timeless K-01 houses a full array of advanced functions and user-friendly features in a camera body with remarkable form and function. The elimination of an optical viewfinder and quick-return mirror gave Newson more freedom in designing the camera body, and the K-01 showcases Newson originality in every detail.  Available in black, white and Newson's signature yellow colors, the K-01 features the designer's autograph logo stamp on the bottom of each camera.
The famed designer's touch also is evident in a new smc PENTAX-DA 40mm F2.8 XS interchangeable lens.  As the world's thinnest interchangeable lens,* the new 40mm combines with the PENTAX K-01 camera body to deliver a unique ILC system that is perfect for photographers who are as keen on design as they are on performance.  Together, the K-01 and 40mm lens system mark the intersection where high technology and high design meet.
Key features of the PENTAX K-01 include:
• Durable machined aluminum frame under a stylish black, white, or yellow exterior.
• PENTAX mirrorless body design is compatible with 25+ million PENTAX K-mount lenses spanning decades.
• Large 16 megapixel APS-C sized CMOS image sensor with low noise image capture and multiple aspect ratios.
• Bright, high resolution 3 inch LCD with 920,000 dots.
• Full HD 1080p video capture at 30 FPS with h.264 compression (60 FPS at 720p) features outstanding video capture flexibility.
• Sensor-shift PENTAX Shake and Dust Reduction system is compatible with every mounted PENTAX lens.
• Fast 6 FPS burst mode is ideal for fast-action photography.
• Flexible ISO range of 100-25600 ensures gorgeous noise-free imaging in any lighting condition.
• Focus peaking mode provides fast and accurate manual focusing for critical focus applications.
* The world's thinnest interchangeable lens for lens-interchangeable digital SLR cameras, as of February 1, 2012 (based on PENTAX's research).
The K-01 will be available in yellow, black and white in March 2012 for $749.95USD (body only) and $899.95USD (lens kit including new DA 40mm XS) in Marc Newson designed packaging and with the Marc Newson designed strap.  The smc PENTAX-DA 40mm F2.8 XS unifocal interchangeable standard lens will ship at the same time for $249.95 USD.
Additional information is available here: www.pentaximaging.com/news and a video interview with Mark Newson regarding the K-01design may be viewed here: www.youtube.com/pentaxian1  Images of other Marc Newson creations are available here.
PENTAX is a leader in the production of a variety of adventure ready digital cameras including weather-resistant digital SLRs and stylish, compact, waterproof cameras, as well as lenses, flash units, binoculars, scopes, and eyepieces. For more than 90 years, PENTAX has developed durable, reliable products that meet the needs of adventurous consumers and businesses. With new headquarters in Denver, Colorado, PENTAX RICOH IMAGING AMERICAS CORPORATION is a subsidiary of PENTAX RICOH IMAGING COMPANY, LTD. effective October 1, 2011. Additional details may be found here: www.pentaximaging.com/news
[/toggle_simple]