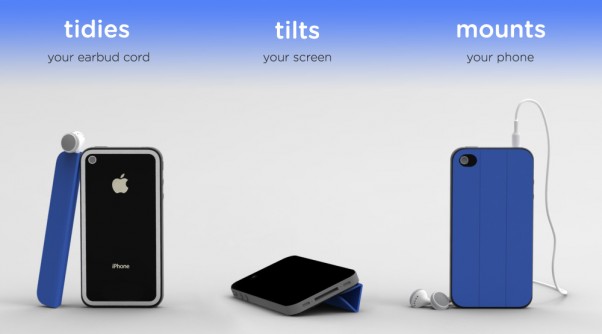 Ever since the iPad 2 came out, I've always thought the Smart Cover was really neat. I like how it aligns itself to the device and how you can fold it into a stand. Only problem is I don't have an iPad so I've never had much reason to own one. But with the TidyTilt, a Kickstarter project from a pair of Chicago-based design students, I may finally be able to make that dream a reality (short of, you know, actually buying an iPad).
The TidyTilt, much like the Smart Cover, is a tri-folding magnetic cover for the back of the iPhone 4/4S. You might think covering the back is pointless, but the TidyTilt aims to serve a slightly different purpose from it's larger cousin. Besides turning into a stand, it also acts as a magnetic mount and keeps your cables organized (and we all know how much of a pain tangled headphones are). Here, just watch the video.

For just $19, you can get your own in either blue, green, pink, or black. The designers hoped to raise $10,000, but are well beyond that goal by now (at the time of writing, they're just shy of $180k). A few of those use-cases seem a bit tenuous (the multiplayer see-saw, for example) but I still think it's awesome and am pre-ordering one ASAP. If you're into the idea too, you've got until January 29th to make your pledge.