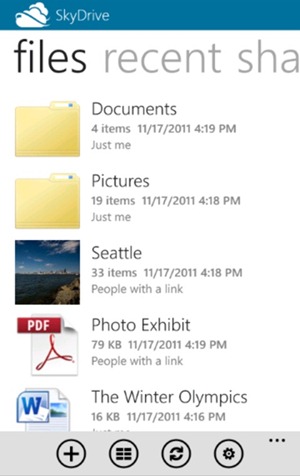 Microsoft uses SkyDrive heavily in WP7. It's integrated into the way you take and upload pictures, the way you send them and view them on your device, and your MS Office Documents as well. But it's never really acted as a file system or drive the way many of us think it should. That's all about to change.
WP7 users have been able to access the HTML5 SkyDrive site, but that's not good enough for me, nor for them apparently. Microsoft has already introduced a SkyDrive app for iOS (available here) and is soon releasing the WP7 app that allows full access to your data just like a disk drive.
Plenty of screenshots are available at the source, and it looks like they've thought this out. The blog posts tout access to "any and all of your files." You can send links from within the app via the usual sharing sources, and you can choose to send a view-only link or a edit-enabled link. You can also add new Folders, delete unneeded items and folders as well.
As for why the iOS app made it to market before WP7, I can't speculate, but both look really well thought out, and perhaps it'll dethrone Google docs on my phone. Check out the videos below, then head over to the source link.
Hat tip to Ezenwa Okoro