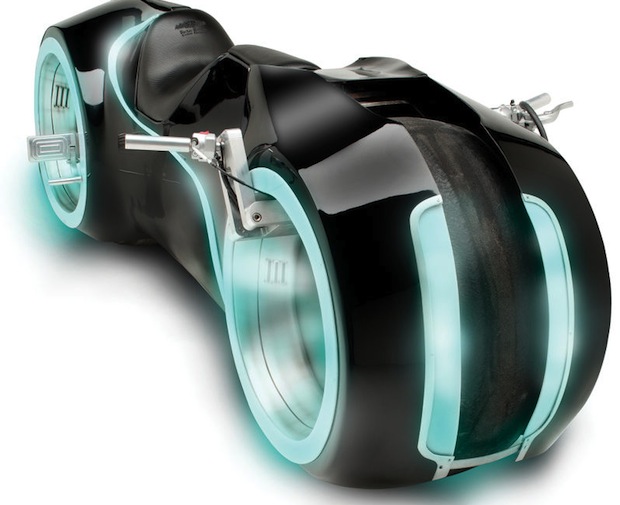 Yeah, you read that right. The above-pictured motorcycle is for sale. It's also fully operational, street-legal, and mine. Don't you dare buy it. The price tag of $55,000 didn't seem to deter buyers, as there's already a wait-list for it. Eight and a half feet long, just under two feet wide and almost twenty night inches tall and skinned in fiberglass, you're sure to get noticed. My biggest fear is that any license plate you throw on there will ruin the effect, which means if I owned one, it'd be plateless, or at least feature a hide-away plate.
From the press release:
[box_dark]Electroluminescent strips built into the tire cowlings, wheel rims, and body illuminate the cycle. It is powered by a fuel-injected Suzuki 996cc, 4-stroke engine. Riders lay at a near-horizontal position astride the padded leather seat, with feet on foot pegs that control its 6-speed constant mesh manual transmission and hands on the handlebars for throttle and braking. The hubless wheels are former truck tires built up then custom-shaped to fit onto one of two counter-rotating rims spinning within each other, providing the broad-tired authenticity of the computer cycles from the movie. A chain-driven friction drum manages acceleration and braking from the handlebars. It uses a 3 1/2-gallon main fuel tank and 1 1/4-gallon reserve tank.[/box_dark]
To drop your load (of cash) head over to Hammacher Schlemmer. If you're the 99%, try this link instead.
Image via Discovery