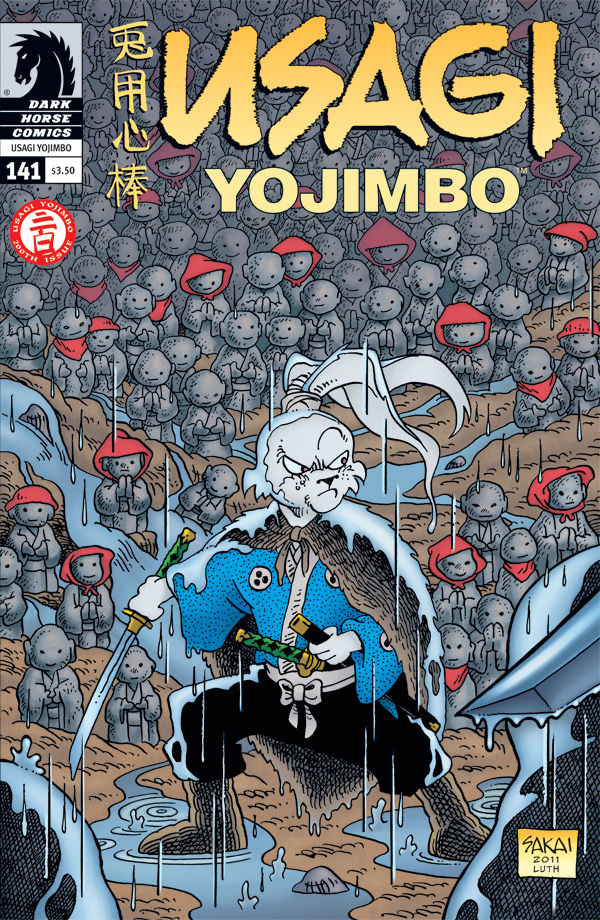 If you've never heard of Usagi Yojimbo, it probably means that you never watched the Teenage Mutant Ninja Turtles when the show was still worth watching (a.k.a. before they made it look like some half-assed anime shit), or you're just not a fan of Stan Sakai. Both of these excuses make me sad. Fortunately for you, it's never too late to start, and the 200th issue is a great place to pick up the series since it is a stand-alone issue with a self-contained story.
[box_dark]USAGI YOJIMBO REACHES 200TH ISSUE! STAN SAKAI HONORED WITH YEAR OF THE RABBIT EXHIBIT!
October 25, MILWAUKIE, OR — Earlier this year, Usagi Yojimbo creator Stan Sakai was named the 2011 Cultural Ambassador by the Japanese American National Museum. Shortly thereafter, the JANM opened their Year of the Rabbit exhibit—the most comprehensive collection of Sakai's work to date.
Stan Sakai has won several Eisner Awards and has received over twenty Eisner Award nominations. Prior to Dark Horse's long run on the series, there were thirty-eight Fantagraphics issues, sixteen Mirage issues, a summer special, and four color specials. Dark Horse's Usagi Yojimbo #141 marks the landmark two hundredth overall issue of master storyteller Stan Sakai's beloved series, and the rabbit ronin celebrates with a special story perfect for new readers, "200 Buddhas"! With a ruthless gang terrorizing his small town, a humble stonecutter receives a vision and sets out to carve two hundred stone figures. Just as he has finished the 199th, a long-eared stranger comes to his door seeking shelter from the rain!
"In a perfect world, everyone would read Usagi Yojimbo."
—Greg McElhatton, Comic Book Resources
The Japanese American National Museum is the largest museum in the United States dedicated to sharing the experience of Americans of Japanese ancestry. The founding of the museum is a story of high hopes, remarkable achievements, frustration, and, ultimately, success.
The JANM is located in Los Angeles, and the Year of the Rabbit exhibit closes its doors October 30, 2011 – http://www.janm.org/exhibits/stansakai/  Usagi Yojimbo #141 is on sale October 26, 2011![/box_dark]
Aside from being a long-running series with great stories, Usagi Yojimbo has a lot of references to 17th century Japanese culture and folklore. The weapons and armor are all period-correct too, so you might actually find yourself learning something. Do yourself a favor and go here to check out a 6 page preview. Then head down to your local comic shop (there's a locator at the top right of the preview page in the link) and pick up the full issue. And if you're in the Los Angeles area, head down before Sunday to check out the Year of the Rabbit exhibit with all of Stan Sakai's work.