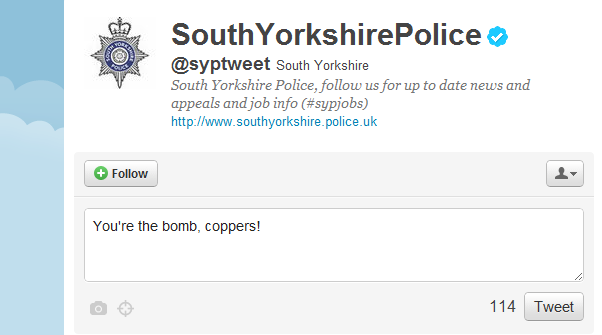 It's not often you hear about the government using Twitter for good. During the riots in England this summer, many authorities were calling for the service to be blocked. They thought that it would be used to coordinate attacks and the like. Enter Sheffield, the fourth largest city in Britain; Inspector Jayne Forrest of South Yorkshire Police is using Twitter to reach out and put a personal face on the police force.
Police forces are never fully loved by the people. They're often seen (especially by the more rambunctious crowd) as buzz-killers and mean-spirited guys with weapons. Insp. Forrest has said that putting a personal face on the force, and using such a real-time service, has helped them keep a finger on the pulse of the people, as well as pass important news. For instance, someone tweeted "We are raging against the Lib Dems" and posting a picture of them holding a flare gun. Forrest responded with "Don't be lighting flares, they're dangerous and you'll get arrested" which seemed to calm them down.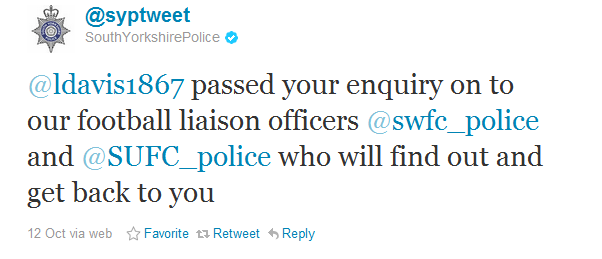 In a world where instantaneous word-of-mouth is the law, accounts such as @syptweet and @MontgomeryTXDAO ( who announces DUI checkpoints and trial results) lets people know that the police are present, and not just in a menacing, big-brother way. Forrest has even used the service to coordinate with protesters, allowing police to manage traffic on protest routes and keeping everyone safe. That goes a long way, considering how dangerous large, excited groups of people can be.
Inspector Jayne Forrest credits her use of Twitter to communicate with the people of Sheffield with helping the city escape the dangerous and destructive riots that swept the country. "I was basically appealing to people's inner good – 'Come on people of Sheffield, we're better than this'. Maybe it's no accident that we didn't suffer any riots as the fourth-largest city."
The department has expanded their use of social media to other areas, such as their air operations section, which posts tweets about what their helicopter is doing. Even though it's hard to get some people using the service, Forrest says "It's change isn't it? You get people who embrace change and people who resist it, so we try to take people on the journey with us but if we have to drag them with us, so be it."