Today at Nokia's annual Nokia World conference we finally got an official look at the first babies to come out of the Redmondpoo marriage. The Lumia line is made up of sweet, sexy, candy-like phones that run Windows Phone 7. It is worth noting that Lumia is Spanish for "prostitute," something else that is often called sweet, sexy, and Candy. Joking aside, Nokia Lumia 800 and the Nokia Lumia 710 (the rumored Searay and Sabre respectively) have been long awaited by industry enthusiasts and Windows Phone 7 enthusiasts alike.
The Nokia Lumia 800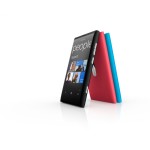 The Lumia 800 is considered to the the high-end flagship device that Nokia and Microsoft have chosen to make a splash in the industry with. Featuring a single core 1.4 Ghz Qualcomm Snapdragon MSM8255 processor, a 3.7 inch ClearBlack AMOLED curved glass display with a 800×480 resolution, and an 8MP Carl Zeiss camera lens, the Lumia 800 weighs in at a light 142 grams in a portly 12.1 mm thickness. For comparison, the Apple iPhone 4S weighs 140 grams at 140 mm thick and the Motorola Droid 3 slider is 13 mm thick at 167 grams.
A quad-band GSM phone, it also supports 14.4 Mbps HSDPA and 5.76 Mbps HSUPA to ensure fast 3G speeds no matter where you take the device. The 16GB of on-board storage and the 512MB of memory will give you a very smooth Windows Phone 7 Mango experience and plenty of space to take all those high resolution pictures and 720p videos from the camera. The lack of a newer dual-core processor and an LTE antenna boosts the 1450 mAh battery life to 9.5 hours of 3G talk time and 335 hours of 3G standby time. Along with its colorful software, the Nokia Lumia 800 will come in Black, Cyan, and Magenta flavors. European pre-orders are available right now with a European release scheduled for November at a € 420 unsubsidized price. If you live in the U.S. you will have to wait until "early 2012" which can mean any time from January to April, but no other U.S. availability information was given.
The Nokia Lumia 710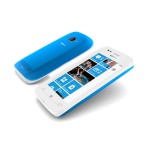 The Lumia 700 is a curvy mid-ranged device that offers the full Windows Phone 7 Mango experience in a colorful and attractive shell to those who can't afford to dish out top dollar for a smartphone. It sports the same 1.4 Ghz Snapdragon processor as the Lumia 800, the same 512MB memory, and the same quad-band HSPA+ antenna. however, the camera has been downgraded to a 5MP Carl Zeiss lens but it can still shoot 720p videos at 30fps like its bigger brother. The display is also the same except the Lumia 710 does not have the curved glass on top of it. It is a hair thicker at 12.5 mm but sheds off a lot of fat to weigh in at 125.5 grams. This can be attributed to the smaller 1300 mAh battery that gives a battery life of 7.6 hours 3G call time and 400 hours 3G standby time.
Aimed towards mid-range and emerging markets, the Nokia Lumia 710 will be hitting Hong Kong first in November and other major Asian markets by the end of the year. It will carry a € 270 unsubsidized price tag and come in two-tone options, with the front being offered in white or black and the back being offered in white, black, cyan, fuchsia, and yellow. Nokia was silent about European and North American availability.