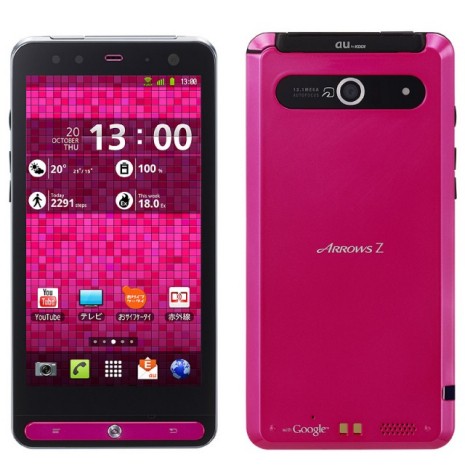 Japan, land of strong history, resilient people, and -at times- very odd things. Also, electronics. Fujitsu-Toshiba, a joint venture which isn't long for this world, has come out with a phone that's spec'd to the max and is also pink. The Arrows Z ISW11F (a name that's as exciting as numbered car models) has a hefty list of specifications that makes me wish it ran WP7. It runs Gingerbread, has a dual-core 1.2GHz processor, 4.3 inch 1280×720 pixel screen, a 13 MegaPixel CMOS sensor and a front facing camera of 1.3MP. It supports 1080p video, b/g/n wireless, Wi-Max , Bluetooth and is rated Tsunami-proof. I mean, it's waterproof.
As much as I want to get into kayaking, I'd love a waterproof phone, and I wonder what the price point would be. As of now, pricing is unannounced, and the phone seems to be limited to Japan (Why can't the US get some of these phone makers to play in our market?) which is okay, because that pink is just a little much for me.
Press Release below:
[box_dark]
For Fall 2011 lineup of au
September 26, 2011
KDDI, Okinawa Cellular since early October 2011, Smartphone au "IS series" au mobile phone models and three models of six new lineup, one tablet models, one model will launch a communications terminal sequence.
This "IS series" is a high-speed communication model can be equipped with WiMAX and tethering of six models four models. To experience the ease and comfort models with dual core CPU, and mobile wallet waterproof ® , available in Japan We offer an unsurpassed model of such infrared-enabled. This well enjoy web and video viewing pleasure, we provide user-friendly operability.
In addition, au mobile is slim and stylish design to achieve while dealing with waterproof and dustproof, and models with a camera capable of shooting high-speed fast start, for corporate customers, the loss of the event We also offer various security features models with or stolen.
Further, both Mobile WiMAX and Wi available 3G-Fi router and a business tablet. Business tablet, the impact resistance against water and dust can also take advantage of outdoor activities.
This time the "IS series" is, E-mail features, in addition, all models also correspond to the Earthquake and Disaster Message Board. In addition, the total support safety / security of the smart phone, "Security Pack confidence," we offer.
In addition, automatic photo backup service for smartphones au "au one Photo Air powered by Eye-Fi" and integrated communications services "au one Friends Note", such as providing, you can choose to enjoy more freedom to communicate easily.
Smartphones for WiMAX, WiMAX high-speed communications for your stay in more customers, minutes available from 1st January 2012, October 2011, "+ WiMAX" monthly fee of 525 yen (tax included) The campaign to free.
See separate sheet please visit. As for the models announced today, from 30 September 2011, KDDI Designing Studio (Harajuku, Tokyo), from 27 September 2011, au NAGOYA (Nagoya) starts in Chicago.
[/box_dark]
Thanks Chris!