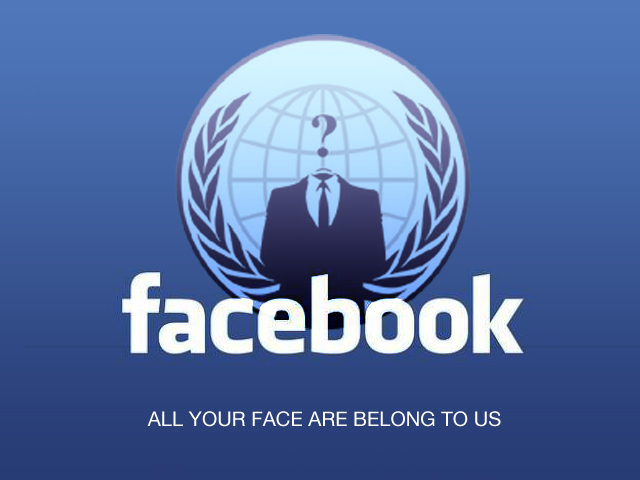 Facebook. One of the world's greatest evils. Killing innocent civilians, torching homes, and… Oh wait. No that was something else (Myspace). Facebook just has a pretty bad privacy policy. Well, Anonymous has them in their cross-hairs, but are they right in doing so?
Here's the facts:
Anonymous has said they will attack Facebook on November 5th 2011.
They made one of their fancy pants videos and put it on YouTube.
http://www.youtube.com/watch?v=SWQTS8zqYXU&feature=youtu.be
Some notable quotes:
"Facebook has been selling information to government agencies and giving clandestine access to information security firms so that they can spy on people from all around the world."
"Everything you do on Facebook stays on Facebook regardless of your 'privacy' settings, and deleting your account is impossible, even if you 'delete' your account, all your personal info stays on Facebook and can be recovered at any time. Changing the privacy settings to make your Facebook account more 'private' is also a delusion. Facebook knows more about you than your family."
Ok, so those are the facts. Now strap in for my rant.
Let me start by saying that I, for the most part, appreciate what Anonymous is doing. They obviously have a skilled group of hackers at their disposal and their traditional DDoS attacks are like a modern day Sit-in protest. It's relatively non-destructive and it makes a statement. I can get behind a movement like that. On the contrary, for arguments sake, the London rioters seem like children who think they know better. Basically they personify the lyrics to that Billy Joel song "Angry Young Man."
OK, so back to Anonymous. Now of all their attacks, I think Facebook is the least warranted. First of all, as you read, they are calling out Facebook for revealing all my information to evil government masterminds and Dr. Evil and so on. If this were true, which I doubt it is, I think the public would be slightly more aware of it. These days, Facebook can't dot an 'i' in their privacy policy without the internet losing their minds. How would the line "Oh, and we'll sell your info to wrong-doers everywhere" go unnoticed?
Sure, you can make the argument that they don't explicitly say it, and that they keep it a secret and it's all a big cover up. The world loves another conspiracy. Remember when 9/11 was an inside job? Or how about that moon landing? Look, I'll be honest, it's always interesting to read these conspiracy theories. If you dig deep enough into any story, you'll be able to find something that's odd about it, but that doesn't mean it's a conspiracy.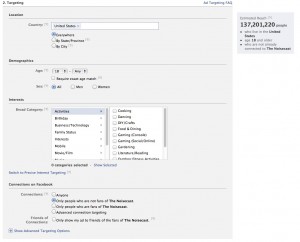 Now let's be clear here, Facebook absolutely 100% uses your information to help advertisers get their messages in front of you. When I say "your information," I don't mean you, I'm talking about the collective. At no point can an advertiser find you, personally, and read all of your wall posts or messages. The advertiser can only narrow down their audience by the type of person they're targeting and send the ad out. So for example, they want to advertise to 18-25 year old males who like snowboarding. They can select "males" who are "18-25" years old, and are interested in snowboarding. Facebook then gives them a projected reach, lets say 100,000 people, and then charges them accordingly. The idea that this is somehow "evil" is just ridiculous. This is how advertising works. This is why you see ads for video games and pizza on G4TV, and ads for make up and tampons on Bravo. It's marketing.
OK, so advertisers aren't the issue, maybe Facebook is being evil and selling all of my info to private security firms and the government.
Well, if that's the case, where's the proof? I'm sorry, but I don't jump behind a cause that's based on a hunch. If it's the truth, prove it to me. I'll support you if it is. Until you can prove it though, I'm not budging.
The simple truth is that while Facebook has a history of being stupid, that doesn't mean they are now. Small companies have a knack for not playing by the rules, sometimes in a good way, like the article I posted yesterday, and sometimes in a "I can't believe these idiots trust me with their private messages" way. The thing is though, as these infant companies grow, they learn that they must take things more seriously. Not everything, but some things. Zuckerberg, for example, has probably learned the lesson of screwing with people's privacy. If he wants to keep his precious Facebook from going the route of MySpace, he'll make sure he plays by the rules.
So for the TL:DR crowd, let me close with this. If there is proof of this great injustice that Facebook is being accused of, bring it forward. If there is none though, don't fire cannons based on a rumor. Like I said earlier, I support the idea of Anonymous. I like their motives of bringing protest to those who have done wrong, but if they want to be taken seriously by the general public, they can't fire on all cannons without being absolutely sure that their cause is just. They have the potential and the talent to massively change the world in which we live, but if they make rash decisions on little evidence, they're only going to be hurting themselves in the end.