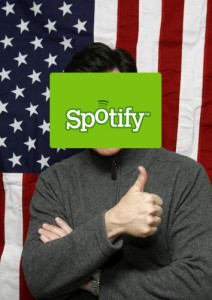 You've been waiting for it, and it looks you're about to get it. A source speaking to the Noisecast has shared an email exchange with an executive of a major record label who cites mid-July as the day the Spotify dream becomes a reality for the U.S. of A.. Between "July 5th and July 15th" to be precise. Or at least as precise as a 10-day range can get.
This information corroborates a report by Silicon Valley Insider, who say that Jonathan Forester, General Manager of Europe & Global Vice President of Ad Sales at Spotify, told them that Spotify would not launch before July 5th. Of course, "not before July 5th" still leaves years of possible launch dates. Our source narrows that range down quite a bit.
The emails also suggest that Spotify may launch as an invite-only service to start with. This shouldn't come as too big of a surprise, since Spotify has used the invite-only model in Europe before. It would also jive with American record labels' typical reluctance to embrace new mediums of distribution. A soft opening on an invite-only basis would be just the kind of toe-in-the-water adjustment period one might expect from the labels.
The emails also confirm the price we've been hearing bandied about: $10/month. So what does the Netflix-esque subscription cost net you? Our source says for $10/month you'll "never have to buy music again" and be able to "try everything". All in all, sounds just like the European version, we'd say. Nice! As an added bonus, you'll even be able to "connect nicely to facebook", lending credence to many of the rumors we've heard about Spotify and Facebook partnering up.
If it turns out to be correct, this likely means that Spotify has been successful in signing Warner Music Group, which, last we checked, was the last major label holding out. There's few details about just which platforms will be supported, though if the situation in Europe is any indication, we can likely expect desktop support as well as iPhone and Android native apps. We've even seen teases of an official WP7 app at MIX11.
Could this finally be the music consumption revolution the States has been waiting for? Well, it looks like we won't have to wait too much longer to find out!
UPDATE
Gigaom has confirmed via email that Spotify will be launching tomorrow. We thank you for your trust in us. ~Ed