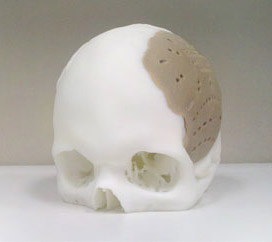 Today, News.com.au reports that an un-named man has successfully received the first 3-D printed implant; a success that will no doubt change the way we treat head trauma patients in the future. By using 3-D printing technology and a polyetherketoneketone implant, surgeons were able to replace 75 per-cent of the man's skull. The highly customized implant is expected to actually promote bone growth and cell regeneration (actual healing). The surgery was reported to have occurred earlier this week.
Back in February Oxford Performance Materials announced the FDA's approval of their OsteoFab Patient Specific Cranial Device (OPSCD), which allows for the manufacturing of one-off patient anatomy-specific medical implants; like skulls. OPSCD promised the ability to create the highly specific implants using 3-D printing technology and an ultra-high performance polymer that is biocompatible and mechanically similar to regular bone known as polyetherketoneketone (PEKK). So when you walk through an X-ray machine at the airport, you won't set it off.
Oxford Performance Materials' CEO, Scott DeFelice, calls the technology "transformative and disruptive," but we'll simply call it really awesome. We look forward to a much broader application and adoption in the treatment of trauma patients.
Hat tip to @Killahkazx