Missing emails, technical difficulties and drowned keyboards, now is the time to catch up on the last few weeks while we can!
There are a lot to cover, but most of the titles I have mentioned before. All are worth mentioning again or for the first time and should be checked out as soon as you get to the comic store….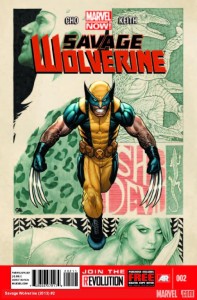 Savage Wolverine #2 (Marvel)
Wolverine continues to battle for his survival and lecture Shanna on how to survive the Savage Land.
Shanna does what she does and keeps them both alive.
Amadeus Cho arrives on the island and this cannot be good….
Frank Cho continues producing one of the best looking books around and by combining awesome art with three of my favorite comic book things, Wolverine, the Savage Land and Shanna, assures it a mention at the top of the list.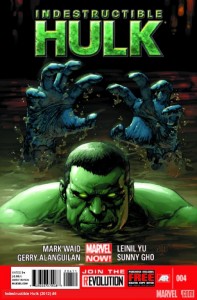 Indestructible Hulk #4 (Marvel)
Dr. Banner introduces himself to his new assistants and S.H.I.EL.D. sends him to the depths of the ocean to stop an Atlantean warlord from claiming the Pacific Ocean as his kingdom.
And you thought your days at work were eventful.
Mark Waid sends Hulk into a high pressure situation, literally, maybe we will find out if the Hulk floats.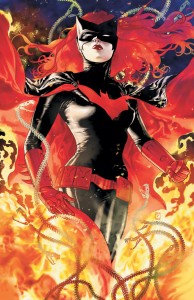 Batwoman #17 (DC)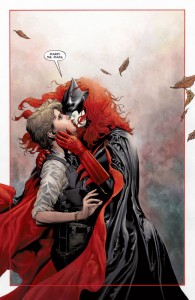 I cannot say enough about the artwork in this book. J.H. Williams III produces some of the richest pages on the market. These issues are worth it just for that.
Say what you will about DC hiring Orson Scott Card as a writer for Superman, his personal views are his own, no matter how misguided, DC shows time and time again they are committed to equality. Just check out the beautiful panel to the right.
#17 is the finale of the first giant Batwoman story arc. April begins "This blood is thick" and I am definitely looking forward to the next chapter.
Before that, finish this one off and, if you have to, pick up the trades.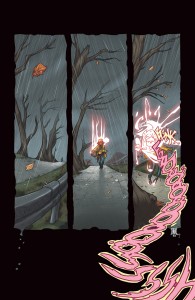 I Love Trouble #4 (Image)
Missed the first 3 issues? I have not been able to even look at the preview of #3, my store sold out and I am missing the email it would have been in.
Do not worry! You can pick up #4 and not feel lost. Everything you need to know is there in those pages.
Felicia has joined the Mars Corporation and assassin training has begun. The question is, will Felicia be able to pull the trigger when the time comes?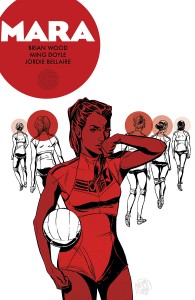 Mara #3 (Image)
More secrets are revealed and things get interesting after a failed attempt at Mara's assassination. Everyone wants answers, seems no one has anything but questions. What can Mara tell them they do not already know?
Another book I have missed an issue of, but one I am going to read completely, one way or another.
Colder #5 (Dark Horse)
Declan faces off against Nimble Jack to save Reece in this final issue. Wonderfully done with a resolution and the path laid for more stories, Colder is a world I will gladly revisit again.
February 27th…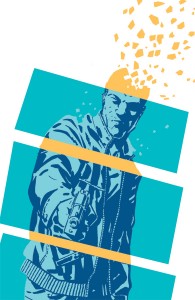 Comeback #4 (of 5) (Image)
As the FBI closes in on what they need to shut down RECONNECT, Agent Mark Thompson is on the run from both. This killer time travel story begins to fold in on itself as a man fights for his survival and to set right all he possibly can.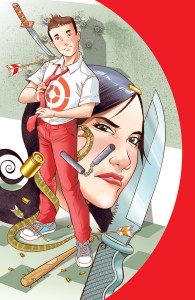 Five Weapons #1 (of 5) (Image)
13 year old Tyler is going off to school like every other teen, with one exception, he will be attending a school for assassins. In order to survive and graduate, he plans to beat every weapon master, without using one himself.
Having famous assassin parents will only get you so far, luckily he has his brilliant mind, sharper than any blade in the facility, to see himself through.
Wonderful artwork and excellent dialogue make this a must buy!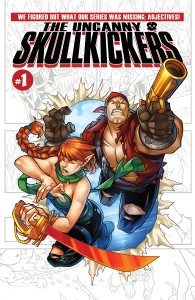 Uncanny SkullKickers #1 (of 5) (Image)
It has become common in the comic book industry to have a series of limited runs for a group of characters. It cuts down on the amount of speculation while providing the readers with fewer cliffhangers to fume over if the series gets canceled.
Case in point, "Eighty Eyes on an Evil Island" is a sequel to three previous story arcs featuring Rex, a man from another time and place, Kusia, an elf who does not mind doing the heavy lifting, a rhyming sword and a dwarf bobbing under the ocean. To be fair, the dwarf only started bobbing among the seaweed at the beginning of this arc.
A little tongue-in-cheek, this is comedy-fantasy book is really fun and back-issue worthy.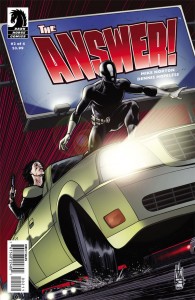 The Answer #2 (Dark Horse)
The Answer is on the road in Cincinnati trying to rescue a genius librarian from a secret organization, and she may not want his help after all.
Funny and intriguing, this quip making ass-kicker makes me wonder what I have been missing out by not reading this title all these years.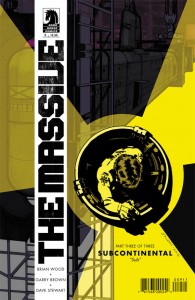 The Massive #9 (Dark Horse)
"Subcontinental" concludes and the fate of the Kapital and Moksha Station are decided.
Has the crew rebelled? What is hidden on the station that makes all this some of the most valuable property left in the world?
Brian Wood's incredible post-ecological disaster series continues to sail forward under plenty of power as the fate of The Massive draws nearer
February 20th…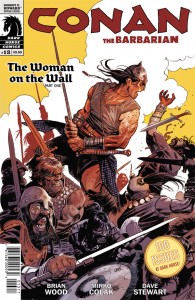 Conan #13 "The woman on the wall" Part 1 (Dark Horse)
The sickness has been driven from the Tigres, and now the healing can begin after their traumatic losses.
Belit, unable to remain on board, unsure about the future of her ship and of her relationship with Conan, returns home. He can do nothing but let her go.
Worried about her welfare, Conan later follows her and is kidnapped and impressed into service by an invading army moving into position to take a city.
On the battlements walks a woman whose ghostly presence is becoming an elaborate tale told by the soldiers, one of fantasy and intrigue, and though Conan knows her identity, he realizes the only way to her is over the wall with the army at his back.
The second half of Brian Wood's adaptation begins with a separation that may shake Conan to his core and change him and his fate forever.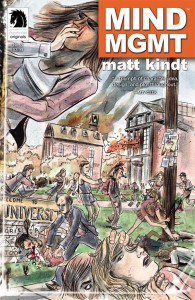 Mind MGMT #8 (Dark Horse)
We meet more Mind MGMT agents of the past in this issue as Lyme and Meru try to recruit those left to their quest for the old headquarters of the company.
To tell more would spoil the surprise as the past is revealed and how it has shaped their present circumstances.
If you love a great story, you cannot pass this series up.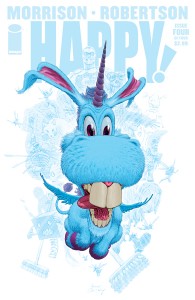 Happy #4 (of 4) (Image)
Nick Sax has finally found where the children are being held, but can he save them? Can he save himself? And, more to the point, will he be able to accomplish all of this without Happy's help?
Strange, violent and gritty with a satisfactory ending, just what the doctor ordered!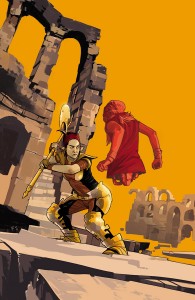 Saga #10 (Image)
Marko and his mother find Izabel, the ghost babysitter, and those hunting them circle in for the capture and kill.
This epic Sci Fi opera continues to amaze, delight and go into multiple printings.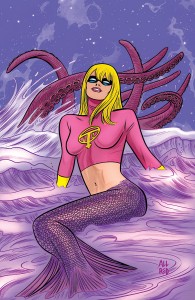 It Girl and the Atomics #7 (Image)
Underneath the candy colored heart of this comic beats the story of a hero.
It Girl, and her amazing ability to change into whatever she touches, is off to Switzerland to rescue a kidnapped scientist and recover the device he built before it falls into the wrong hands.
Business as usual for a superhero.
This is yet another comic I judged too hastily and I am glad I gave it a chance.
That will get us caught up!
What have I missed? What is your favorite title? Is there a book you would like me to review and tell others about?
Just let me know!