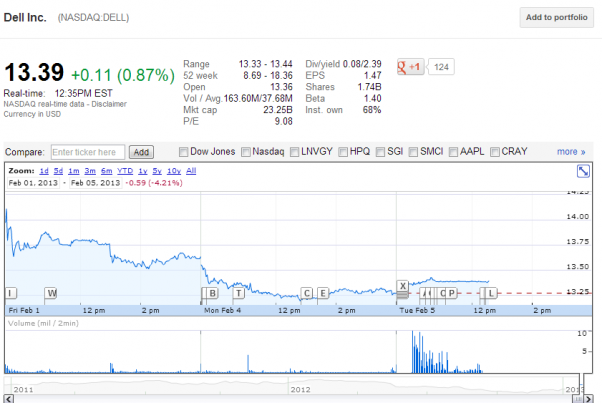 The years following Michael Dell's infamous 1997 statement regarding the future of Apple haven't been kind to the PC manufacturer. The resurgence of Apple, a stagnant PC market, and a recession have all but killed off the once king of the desktop PC market. Today things don't seem to be getting better as Dell has made an offer to buy back shares from stockholders making Dell, Inc. a private company once more.
Dell has reported made an offer of $13.65 per share for a total of $24.4 billion to buy back his failing company in hopes to turn it around. Dell has managed to get help raising the cash from private equity firm Silver Lake, his own MSD Capital Investment and a $2 billion loan from Microsoft. The deal, if accepted by stockholders, will represent a 24% premium over the $11 per share price that DELL was fetching prior to the announcement. As of this writing, DELL's price has gone up to $13.39 per share.
By going private, Dell is pinning the company's success on quicker turnaround from PC manufacturer to enterprise solution business like IBM and HP before them. In a market with such developed competition, it seems that even that strategy seems far from a sure thing.