If you're scumming around the internet, looking for something interesting to do, we've got your number. We've wrapped up a bunch of news and links in one tasty sandwich, waiting for you to take a byte and savor the flavor of "I'm getting paid to do this." Be sure to hit up all of the links for optimal time wasted.
Dilbert hits the nail on the head. 
As the linked article states, it's a little awkward when Dilbert shoots you right in the truth.

We're all sick of hearing about patents for obvious things. As Nilay Patel puts it: "…[35 USC] § 103 says you can't get a patent on an improvement to an invention that would be "obvious" to anyone with ordinary skill in the field. Exactly what counts as "obvious" is at issue in nearly every single patent lawsuit…" Also, you owe it to yourself to read his article. It's a good summary of what's wrong with the current patent system.
Marissa Mayer is now CEO of Yahoo!
Yes, the woman who was behind a multitude of projects at Google (including the bare homepage) is now working for Yahoo! as CEO. Many are confused about the move, but as Forbes' Carmine Gallo points out, she's got passion, a powerful speaking ability and knows how to motivate. Apparently, she used to have open door office hours at Google, allowing anyone to schedule a time slot to come talk to her. Since the recent Yahoo! CEOs haven't had time to learn their own secretaries' names, I imagine her getting to know the company – and listen to the people who actually do the work – will be a big boost. Either way, I can't imagine what it feels like to be a Yahoo! employee anymore. Oh, and some flickr fans have a message for her.

More people are getting their news from YouTube.
Somehow, people are surprised at the fact that it's easier to see major events on YouTube. You're not at the mercy of whichever-leaning news corporation to show appropriate clips or replay important parts of a video. Also, these same news companies are turning to YouTube for footage of major events. A hell of a lot cheaper than having a reporter in the field, right? Also, none of that pesky talk from someone who is actually boots-on-ground in the middle of a revolution. No, we'll just commentate from our comfy chairs, thanks.
According to the first post, titled "Steam'd Penguins," the game-maker-cum-digital-distributor is eyeing Linux – more specifically Ubuntu – for development. Apparently, this is a long time coming, but since Valve works on the "pick your own projects" theory, it took a while to gather steam. The blog states that they're looking to move Steam and the Source engine to Linux, having already ported L4D2. Of course, they're working on optimizing it now. And don't fret, Ubuntu isn't the only distro they'll support, it's just the one they've chosen to tackle first.
Frickin' Laser Beam(s) hits 500 Trillion Watts.
Now, this wasn't a single laser, but it's still impressive. Scientists (Mad? Maybe. Cool? Oh yes.) at the Lawrence Livermore National Laboratory have set a new record for power, using a series of lasers to reach a collective 500 trillion watts. The 192 individual lasers were fired at the same spot – just 2 millimeters in diameter. According the the article, 500 trillion watts is 12,500 times greater than the demand for electricity in Britain in 2006. They're not done, of course, but this is an important stepping stone to their eventual goal: Laser ignited hydrogen fusion. I'm just hoping for a aquatic predator adaptation kit.
Copyright trolling hits politics (openly).
A video from the Romney campaign, showing President Obama singing Al Green's "Let's stay together," has been removed from YouTube as part of a DMCA claim by BMG Rights Management. I can hear your cries now: "Who cares?" Well, I do. Not because I like one candidate over the other, but because the "Fair Use" portion of the DMCA seems to be getting a little smaller every day, and a little less "fair." We discussed this lightly in episode 82 of the podcast, but let's review: The "bad faith" portion of the DMCA take down theory isn't there. If you believe your video was wrongfully brought down by someone, and they did it to harm you, your business, your image, etc, then you have to prove that they knew it would cause harm. That's fairly difficult to do, since BMG can claim they "were protecting their assets" and you have no recourse. This also happened in 2008, when John McCain was prevented from posting certain clips which he claimed to be "fair use" only to be told that YouTube will remove the video first, then wait for appeals. I don't like the stupid, pandering videos that politicians put out, but I also don't like stupid corporations trying to edit the course of an election by means other than funding.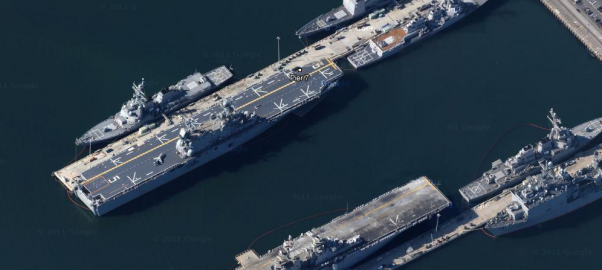 Google, the friendly beast who knows all of our secrets, is adding another tally in the "that's kinda creepy" section. Google has negotiated the use of satellite time to track ships on the open sea, and is apparently better at it than the DoD. According to one man, "I watch them and they can't see themselves. It angers me as a citizen that I can do this and the entire DoD can't." Of course, Google is talking to the US Navy about repercussions and security issues, but it should be noted that this just means they'll be obfuscating the data for civilians. They'll still have it hiding somewhere in their data banks.
Want to watch a building get destroyed with lights?
DUALITY – Atlantic City Sound and Light Show – July 4th from Moment Factory on Vimeo.
Man, I'm a sucker for these shows. I have nothing to add.
Apple may be big dog in the enterprise phone market( for now,) but Microsoft still owns the workstation. 
Yes, Apple has a large share of the enterprise phone market, but they never really made a move for the workstation, and Microsoft has taken note. Since there wasn't a unified hardware front, CIOs have been making up their policies around what they feel is the best combination of hardware, software, and mobile products. Now, Microsoft is poised to have an all-encompassing answer: Windows 8. Windows 8, in all its versions, will be a well connected, seamless transition ecosystem. WP8 and Windows 8 RT will allow your phone and tablet to communicate with your PC (and your Microsoft Server 2012 exchange server) so that you have products that are designed specifically to work together. Not only that, they'll be sporting the best UI, top specs, and the backing of the biggest dog in the yard: Microsoft. You didn't think all that talk of seamless switching and communication was aimed at the consumer, did you? Hit up the linked article for a list of 10 reasons why MS won this round.
That's all for now, children. I hope you enjoyed your stay.