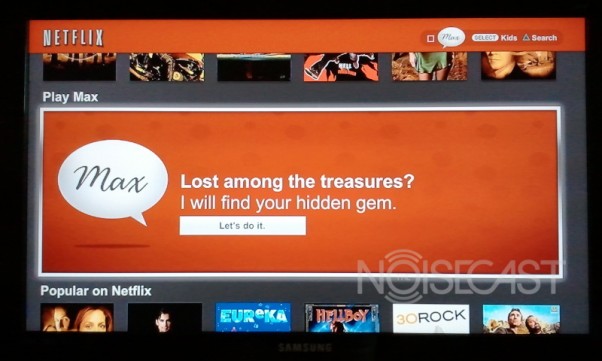 Earlier this week Anthony Berry told you all about the latest update to Netflix on Playstation 3 – Netflix Max. The idea was to help indecisive customers (like yours truly) find a movie or show to watch and MAXimize (yeah Netflix, we get it) their experience. After we posted Anthony's review, we got some folks asking how they can get in on the fun, or at least give it a spin, so we called up Netflix customer support to find out how you can get in on the fun.
First things first; you'll need Netflix version 2.08 for the Playstation 3. If you're using an older version of the software or using it on another device, you won't be able to try Max just yet. The 2.08 update for Playstation 3 began rolling out last week and has reached some users (for example my fiancé's PS3 got the update a couple of nights back, the one in my livingroom is still sitting on 2.07). Though we weren't able to get any official timeline on when the update will roll out, our best estimates should have most people covered by the end of the month.
So, now that we got that out of the way it's pretty easy to turn "on" and "off". The customer rep explained it something like this: Max is technically always on, learning from your the ratings you give and types of movies/shows you watch – just like their current algorithm does – except now you get some additional options and the "Rating Game" that Anthony mentioned. To bring Max to the front, all you have to do is press the Square button on your PS3 controller from the main menu. This will bring the Max interface forward. To turn it off, press the Square button again. Simple.
If you've got a Playstation 3 and Netflix v.2.08 give it a try and let us know if it all works out (and what you think about Max).