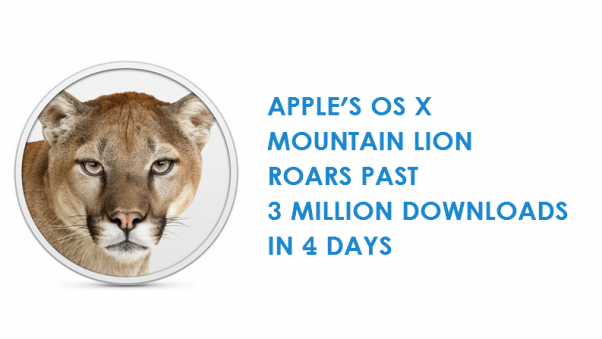 If you missed last night's Live Noisecast Hangout, you missed both Vitto and Chris rag on Apple's latest "service pack." Well guess the jokes on them seeing as more than 3 million people decided that Apple's OS X 10.8 is worth an Andrew Jackson for a service pack OS upgrade.
Apple has officially dubbed Mountain Lion their most successful OS release to date. For what it's worth there are some really great features that are worth upgrading for, namely AirPlay Mirroring and Dictation; sadly you'll need some relatively new hardware to get the most out of it. Check out the full press release below.
[toggle_simple title="Mountain Lion Downloads Top Three Million" width="Width of toggle box"]
CUPERTINO, California—July 30, 2012—Apple® today announced that downloads of OS X® Mountain Lion have exceeded three million in four days, making it the most successful OS X release in Apple's history. With more than 200 innovative new features, Mountain Lion is the ninth major release of the world's most advanced desktop operating system and is available through the Mac® App Store™ as an upgrade to Lion or Snow Leopard users for $19.99 (US).
"Just a year after the incredibly successful introduction of Lion, customers have downloaded Mountain Lion over three million times in just four days, making it our most successful release ever," said Philip Schiller, Apple's senior vice president of Worldwide Marketing.
Mountain Lion features include the all new Messages app, Notification Center, system-wide Sharing, Facebook integration*, Dictation, AirPlay® Mirroring and Game Center. iCloud® integration makes it easy to set up your Mail, Contacts, Calendar, Messages, Reminders and Notes, and keep everything, including iWork® documents, up to date across all your devices. For more information or to download Mountain Lion visit apple.com/osx/specs.
In addition to Mountain Lion, the Mac App Store offers thousands of apps in Education, Games, Graphics & Design, Lifestyle, Productivity, Utilities and other categories, and is the largest, fastest growing PC software store in the world. Users can browse new and noteworthy apps, including apps that take advantage of new features in Mountain Lion, as well as check out staff favorites, top charts for free and paid apps, and user ratings and reviews. For more information visit apple.com/mac/app-store.
*Facebook integration will be available in an upcoming software update to Mountain Lion.
Apple designs Macs, the best personal computers in the world, along with OS X, iLife, iWork and professional software. Apple leads the digital music revolution with its iPods and iTunes online store. Apple has reinvented the mobile phone with its revolutionary iPhone and App Store, and is defining the future of mobile media and computing devices with iPad.
[/toggle_simple]