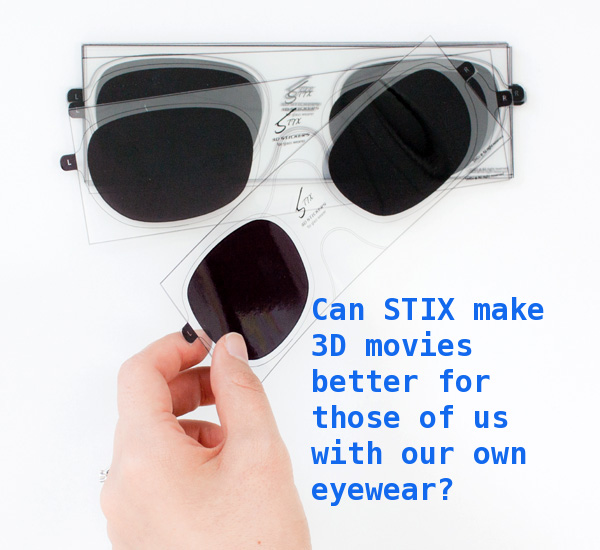 If you're a fan of 3D movies (no judgments here, but you're probably responsible for this) you're probably not someone that has to wear prescription glasses. With the bulky and completely uncomfortable plastic headwear required to watch 3D movies in the theaters, you either don't wear glasses or really like being in pain or uncomfortable for extended periods of time. But fear not bespectacled Noisers, industrial designers Lucy Jung and Daejin Ahn have come up with a brilliant concept that addresses your needs: STIX.
STIX are essentially a pair of self-adhesive stickers that fit over your glasses' lenses to provide the wearer all the benefits of watching a 3D movie with none of the discomfort of having to wear bulky glasses on top of your glasses. STIX have been designed to be slightly larger in size than the average lens to ensure a one-size-fits-all solution. Since, the design doesn't require any additional frame other than your existing glasses, STIX have the added benefit of being eco-friendly as well.
Unfortunately we can't know for sure if the STIX "lenses" are just as easily removed as they are attached, the concept still sounds promising. And sadly, STIX won't make watching Titanic any more enjoyable either.
Make sure to hit up the source link for pictures of STIX in action.