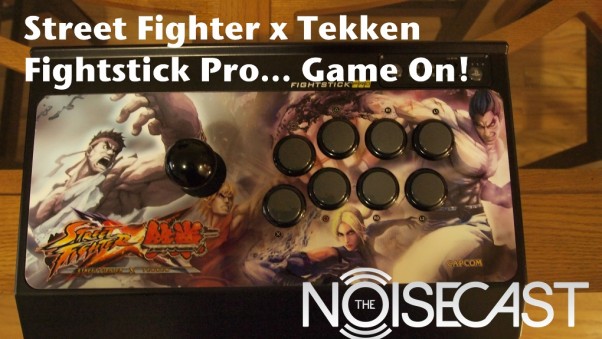 Just in time for the release of Street Fighter x Tekken, Mad Catz brings you a limited edition Fightstick Pro commemorating the event. Mad Catz paid close attention to detail on this one and the artwork alone will leave many fans drooling over the $160 arcade stick, but how does it stack up?
WHAT IT'S MADE OF
Long gone are the days that gamers associated Mad Catz with cheap peripherals, the Fightstick Pro is a solidly built controller through and through. Mad Catz kept it really real, with both joystick and buttons by Sanwa Denshi – the Japanese arcade cabinet manufacturer, so this yeah, this is an authentic arcade feel right in your home.
The Fightstick Pro also comes with the ability to set up multi-speed turbo programming for the 8-button and the very tournament friendly (un)lock switch to cancel turbo and the PS button (PS3 only) and avoid being laughed at forfeiting a regulation match.
As you'd expect of any "pro" level gaming peripheral, the Fightstick Pro isn't wireless but it does come with a 13-ft USB cord so you can comfortably kick back on your couch and never worry about bringing down your Playstation3 or XBox. Although you give up the flexibility of an untethered controller, being plugged in has its advantages, namely zero-lag on input. We'll talk more about this in a second.
SO, WILL THIS MAKE ME A BETTER PLAYER
Will you ever be as good as The Beast? Probably not, but there are advantages to using the Fightstick Pro over your regular six-axis (PS3) or  standard XBox controller. First, the button layout is designed specifically for fighting games so you're not trying to thumb your way around the controller. The Fightstick Pro's four-by-four button layout is familiar if you've spent any time in an arcade and if you haven't, you'll quickly appreciate the ability to mix it up against your digital foes. After all, a split-second is all it takes to tip the scales in a fight – so why wouldn't you want the tools to possibly tip the scales in your favor.
The Fightstick Pro's joystick has the ability to emulate either the right or left analog sticks as well as the D-Pad. So depending on the kind of response you're most comfortable with, you can tailor the controller's response to the type of set that works for you.
There is a learning curve involved if you've never used an arcade stick before, but honestly once you get into the swing of things you'll wonder why you waited this long to pick one up.
SHOULD I BUY IT
Well, yeah. That is if you can find one and don't mind dropping nearly two bills to do so. The Fightstick Pro is a finely built arcade stick that's reminiscent of the arcade cabinet's glory days, however this one is only available in limited numbers. Chances are you're going to have to check eBay if you didn't pre-order one. That said, the Mad Catz Fightstick Pro is not just a thing a beauty, it's a serious piece of hardware that's not only meant to dish out punishment in the game, but take the a physical beating by the gamer.
Check out some images in our gallery below.