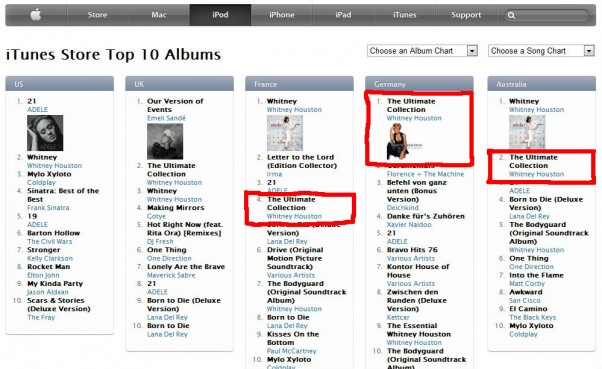 It's no surprise that after a pop star's untimely demise, fans head to their local record stores, iTunes, or Amazon pages to relive some of the happier times. Hell, even I went back dug out an old 12-inch single of Houston's My Love is Your Love remixes. Often times the longing and nostalgia equate to favorable numbers for music labels in the immediate days and weeks following our beloved artists' deaths.
Not content with simply reaping the rewards of fans' grief, Sony Music Group didn't wait a full hour before upping the price of Whitney Houston's digital catalog. Initially Apple's iTunes service was criticized for the sudden 60% price hike (£3.99 to £7.99) of Houston's 2000 release, The Ultimate Collection, though it is now clear that the hike came from Sony Music directly.
The decision to so insensitively hike up the price of Houston's music has been widely met with critique now, rightly, being directed at Sony Music. Yes, we understand that this is a business; no it's not a good enough fucking excuse. Below are just a couple of snippets from the twitterverse, and believe me you're disgust and disdain towards Sony Music Group is share.
In a moving tribute, Sony has raised the prices on all Whitney Houston product. #shewouldhavewanteditthatway

— Michael McKean (@MJMcKean) February 13, 2012
So Sony raised the prices on all of Whitney Houston's music overnight. I can't decide if I'm disgusted by them being vultures or expected it

— Wendy Day (@RapCoalition) February 13, 2012
Hat tip to @KillahKazx