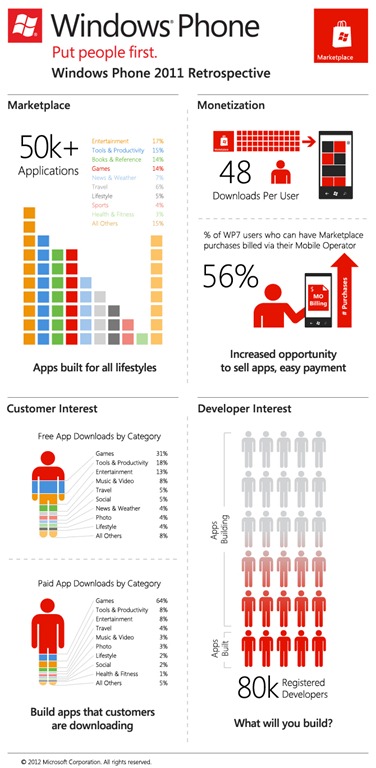 The Windows Phone ecosystem is getting bigger. They've recently surpassed 50k applications available for download. But that's not all.  In 2011, the average WP7 users downloaded 48 apps, out-ranking Android (30) yet below iOS (83). I do believe, however, that this has a lot to do with Google services being built in to Android. Also, I'm probably talking out of my ass.
While games make up 14% of apps in the store, they make up 64% of the paid apps downloaded (probably thanks to big names like Angry Birds and Fruit Ninja) and 31% of the free apps downloaded. It's also noted that 56% of users bill their carrier for apps directly, as opposed to using a credit card. Microsoft touts this as a very easy way to sell apps, because the end-user doesn't have to worry about their credit card information floating around.
It's been a good start for Windows Phone. I'm a fan of the OS, and with the new hardware coming out, I think that they're ready to hit the big time. Perhaps Windows and Android could change places for a while.