I don't know about you, but I love receiving  physical mail. Especially in our electronic world, getting an actual letter is kind of special. Apple recognized this and came out with their Cards service, but that's only available on iOS and is fairly expensive. Luckily, I've found an even better solution with Postagram from Sincerely, Inc.
The concept is simple: You can create and send real postcards from the photos on your smartphone. Just launch the app, choose a picture, fill in an address, then add a short message (up to 180 characters) and within a day or two your postcard will be printed and in the mail. Easy as pie. And what's more, each one will only cost you 99 cents. If you figure that postage is 44 cents, that means you get a custom postcard for 55 cents. That's not just domestic either, you can also send internationally for the same price. Anywhere in the world for a single dollar. What a goddamn bargain.
I've sent and received a few Postagrams and I absolutely adore them. They come on a thick glossy stock and the printing is nice and clear. Probably the coolest thing about the postcards though is that they're perforated and you can punch out the photo. I personally prefer to keep the whole thing intact, but the smaller size is perfect for sticking on the fridge, tacking to the wall, or whatever you want to do (don't worry about losing the message on the left side though, it's also printed on the back).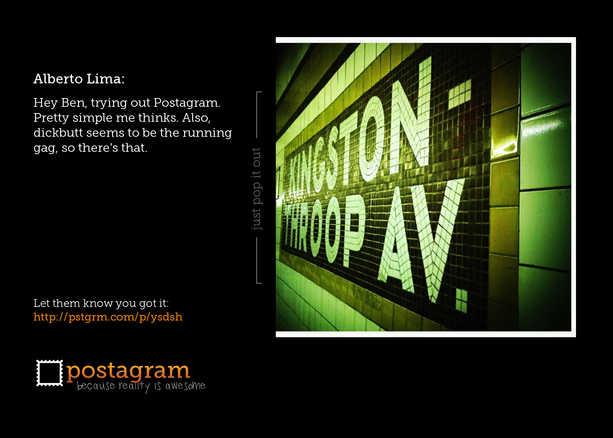 Even though the whole point is to send and receive tangible objects, you can also view your postagrams online.  Each card has a little URL on it where you can find the digital copy. Almost seems to defeat the purpose, but it's nice to do I guess (and makes doing this review that much more convenient).
The app itself is super easy to use. You can use existing photos from your albums, take one directly from the app, or connect to your Facebook account and import them from there. It's free and available for both iOS and Android.
If I had to make any complaint it's that the photos have to be square. Since no camera natively takes pictures in that resolution, you're going to end up having to chop part of it off to fit. It's not that big of a deal though, and overall I love the service.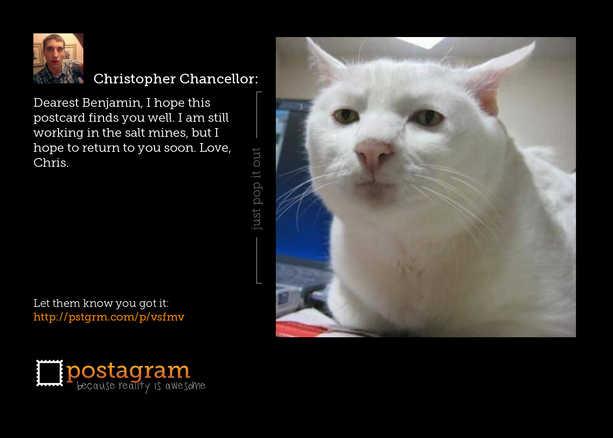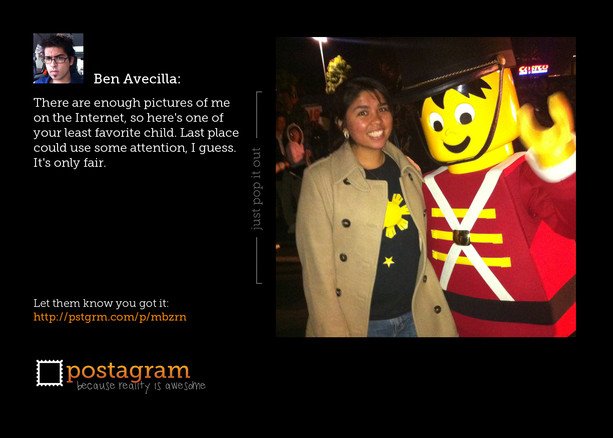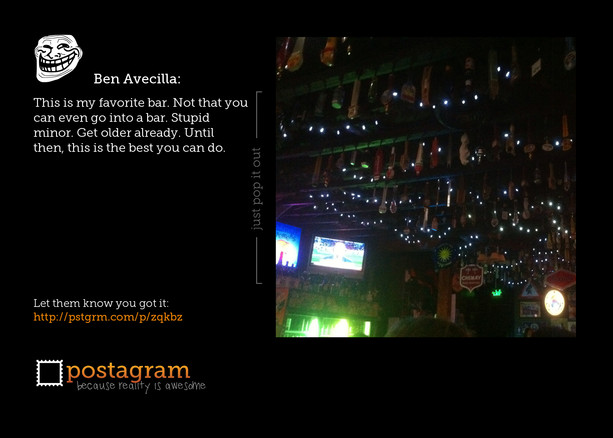 If you want to give Postagram a shot, sign up through this link and get your first one for free. I'm positive that you'll end up buying more though. It's such a convenient way to share memories and experiences with friends. Visiting an interesting place? Instead of buying a traditional postcard from a gift shop, send one of these directly from your phone for less than you would have spent otherwise. And it's so cheap and easy to do that I find myself sending random cards just for the hell of it. I figure a buck is a small price to brighten someone's day.
I'm only focusing on Postagram right now, but it's work mentioning that Sincerely also offers a few other similar services. Popbooth lets you send photostrips, and Sincerely Ink offers 5×7 holiday cards. Check out the whole range at Sincerely.com.
[Note: I got an email from Sincerely yesterday regarding holiday shipping. For guaranteed delivery by Christmas, they recommend placing your order by December 15th and the final deadline for Christmas day delivery is December 18th. By the time you read this there won't be much time left, so you'll want to get cracking.]