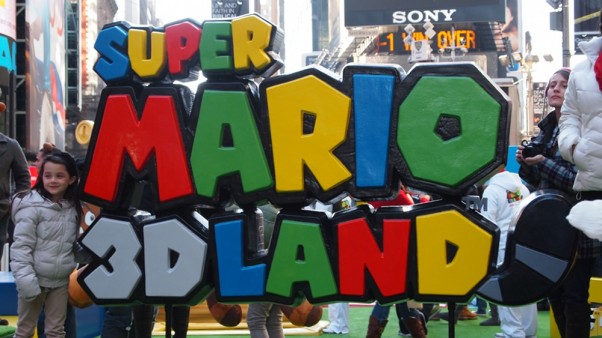 This weekend Nintendo launched the latest Super Mario title in BIG fashion – they turned New York City's Times Square into the Mushroom Kingdom! It was a spectacle that could easily call Times Square home; complete with giant Nintendo 3DS as a stage and obstacle course that mimic one of the worlds in the game, it was every kids dream come to life.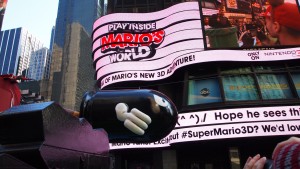 The crowd was anxiously awaiting to get into the urban playground and by 11AM a crowd in the hundreds was already packed and excited to make their way in. On stage was Mario to meet and greet his faithful fans and welcome everyone to take a crack at saving the Mushroom Kingdom IRL! All the crucial elements of Mario's world were incorporated into the event stage, from item boxes to Gumbas to Piranha Plants to an epic warp pipe – it wasn't Military Island it was Mario Land.
What launch party would be complete without giving attendees a chance to get a little hands on time with Super Mario 3D Land? Nintendo gave the hundreds of fans on hand an opportunity to try out the game before its official launch and fans of all ages got a chance to check out Mario's first portable game in 6 years! On hand were Mario fans Ali and Jen who got to play the game early. "It was cool, you're running around [in the game] and get to use the tail and fly. It's a lot of fun," Ali said, giving Mario's first 3D adventure high marks.
Asked about the 3D aspect, Jen simply said, "It takes a little while getting used to it but it's Mario. In 3D. What's not to like. I'm going to have to get it!"
On hand for the festivities was Marc Franklin, Director of Public Relations for Nintendo of America, and we pressed him on what gamers are to expect from Super Mario 3D Land. "Super Mario 3D Land is the first Mario game in full 3D. We took the most best elements from previous Mario games [editors note: Super Mario Bros. 3 and Super Mario 64 come to mind right away] and built them from the ground up specifically for 3D."
"We've taken what fans love about Mario gaming and put it into the first platforming experience in true 3D. It is an exhilarating experience of trying to discover a sense of depth within the game," added Franklin. From my own hands on time with the game it truly does deliver on that front. Usually Nintendo rolls out its biggest games for the end of the year, Super Mario 3D Land could easily be the biggest title to be released this year. Super Mario 3D Land is now available at stores everywhere and online; pick yourself up a copy, you will not be disappointed!
Be sure to check out our gallery below for more photos from the event!