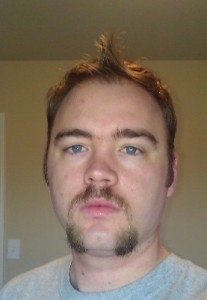 As we all know, the manly month of Movember – or No-Shave-November – is drawing to a close. If you entered our contest, or even if you didn't, send in an end of the month picture by December 3rd. After that, I will choose the finest specimens of manliness in one of our two main categories, Beard and Mustache. If you don't think you can win, send it anyway and we'll make snarky comments and add it to our gallery. Also, if you didn't send a "before" picture, we'll still be glad to include your final mugshot in our Salute to Testosterone. We might even make up a sub-category to crown you the winner of.
Don't forget what this month is all about: Men's Health. Since we don't have a team, if you want to donate, head on over to reader Kyle's Movember page and donate to his team. It's for charity, and supports men's health such as Prostate Cancer and other things that plague those that are blessed with carrying the family jewels.
[box_dark]
Rules:
No clean shave necessary, but no crazy head starts.
Send pictures of initial beard status by November 3 and finished beard to chris@thenoisecast by December 3. That's three days to take each picture. Seriously, send me a picture of your face. I won't use it to create a fake Facebook profile.
Trimming is allowed. We understand you have jobs and what-not. It's not the true spirit of Noshember, but hey, we're fair(ish).
Entries must be Safe For Work! If I get one shot of pubes, I'm probably going to put it on Reddit.
[/box_dark]