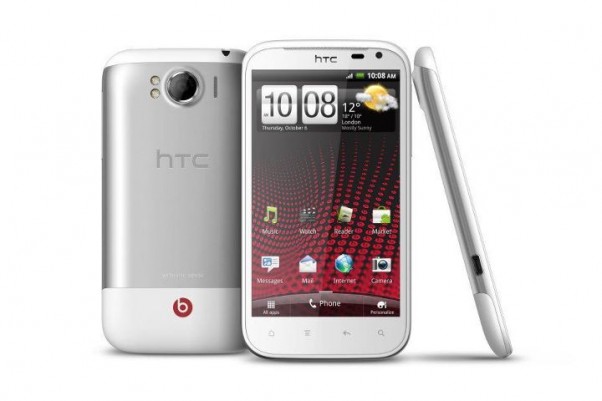 In case you didn't know, HTC is throwing a pretty outrageous party in London right now to accompany its newest smartphone announcement. The HTC Sensation XL is the Android-toting brother to the Windows Phone 7 powered HTC Titan, featuring Gingerbread, a 1.5Ghz single-core Snapdragon processor, 768MB of RAM, a massive 4.7 inch S-LCD screen, an 8MP camera, and Beats audio by Dr. Dre, all in a 9.9mm thick frame. The single-core CPU in a dual-core world is a bit off-setting, but people who have played with the device claim that it absolutely flies even with the single-core limitation. Even without 1080p video recording (it only supports 720p) and a slightly aged Adreno 205 GPU, people are claiming that it is an absolute delight to use.
Although the Sensation XL comes with 16GB of built in storage, that number isn't expandable with a microSD slot which might make some enthusiasts think long and hard before taking a dive for this device. Dr. Dre's presence wasn't merely for show, as HTC is taking its new $300 million investment in Beats quite seriously. The Sensation XL comes with your choice of Beats earbuds or Beats cans to further push that this device and the HTC line are an overall superior multimedia experience. With music, we don't doubt it, but the Qualcomm MSM8255 SoC makes us wonder if this will be the case with high-definition video. Until we get a hands-on with this device or a review unit, we will remain skeptical about the Sensation XL as a true multimedia champion that fits in your pocket.
The HTC Sensation XL is slated to hit Europe and Asia by November, and never for North America. Of course, that doesn't mean HTC has forgotten about the Yanks, as the Sensation XL's twin brother the HTC Titan is headed for AT&T (albeit slightly different specs) and some slightly more powerful Beats devices are rumored to be heading stateside as soon as next week, like the HTC Vigor.