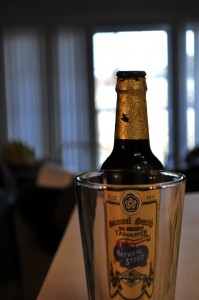 Samuel Smith Old Brewery makes good English Beers. Their "Celebrated" Oatmeal Stout is no exception. It comes in a tall 12 oz bottle, with the cap wrapped in foil, a surefire sign that this beer is intended to be consumed in a glass. It pours nicely, looking like the rich brew that it is.
The first sip brings a very nutty taste, followed by a taste not unlike dark chocolate. It feels very thick as it goes down, but leaves you with a nice aftertaste, and very little bitterness. Not unlike a cup of dark hot chocolate, but, you know, beer. Very, very, smooth, especially for such a dark beer. The only downside I can find is that it isn't an everyday beer. It's good after a heavy meal, perhaps as a liquid dessert, and made to be enjoyed.
Samuel Smith claims to be the oldest brewery in Yorkshire, and they're doing it right. They use water from a well that was sunk in 1758 and still in use today, and the Oatmeal Stout is fermented in open-topped stone 'Yorkshire' squares. Included in the brewing process are malted barley, roasted barley, oatmeal, yeast and hops, all of which add up to the best oatmeal stout I've yet to taste. I'd recommend it if you like to sit and relax with a good beer on a chilly night.