Hey guys! Remember me? I'm the roundup. I'm here to tell you about what you missed today. So here we go!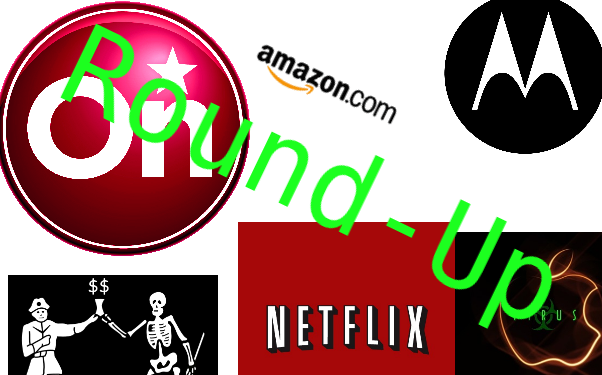 The US Department of Justice and the Securities and Exchange Commission are investigating Motorola Solutions for alleged bribery. Note that this isn't Google Motorola Mobility. The investigation centers around claims that Motorola paid bribes to foreign officials to boost business in Europe, which is, you know, bad.
New Mac trojan claims to be Adobe Flash Player installer in order to get brainless hapless Apple users to install it. Once the link is clicked (and assuming you have Safari set to open "safe" files) it looks like a legitimate Flash installer. After installation, it will disable security measures and generally do bad things. Apple does update their malware definitions daily, but practice safe computing.
Amazon is allegedly revealing their Android tablet, dubbed the "Kindle Fire." Hopefully this doesn't mean that they didn't work out the CPU cooling and you're gonna burn down your couch. Of course, this is all rumor, but with Amazon getting into the Android marketplace so strongly, maybe they know what they're doing.
Speaking of Amazon, Prime account holders will now get free access to Fox shows streaming.  That's over 2000 shows, included in the $79/year price for Amazon Prime. Maybe they're prepping an app to go on that tablet everyone's talking about.
They aren't the only ones with streaming news today: Netflix announced that they've struck an exclusive deal with Dreamworks Pictures to stream your favorite (not yet released) 2013 Dreamworks movies to your Xbox. There's hope that previous movies (Kung Fu Panda, Antz, etc) will be included at a later date.
For those of you who love WP7 (just me and Agrippa, eh?) there's good news: Mango is (possibly) set to start heading out to AT&T subscribers as early as tomorrow. This is good news for the WP7 line of phones, which are loved by critics but can't seem to gain a foothold in the consumer market. Maybe having all the fancy goodness of Mango will push their struggling numbers up a bit.
So you surf securely via HTTPS? Well, maybe not. There's now a tool out there that cracks HTTPS. The tool builds off of exploits that were highlighted 10 years ago, and gives access to people who previously had access to a network to perform Man-in-the-middle attacks. These are frequently created by DSN hijacking, so make sure your settings are up to date, and surf safely.
OnStar, the vehicle tracking/directions/lojack/security system, has been tracking users, even after they've cancelled the service. Well, that sucks. Three senators have taken to the cause, requesting an investigation into what they call "one of the most brazen invasions of privacy in recent memory."
There's a copyright troll out there hoping that you'll pay $10 to make them go away. Which is a good business plan, but just kinda lame. Also, if ISPs don't just roll with it, they get taken to court. Sure, they're out to ensure justice is served, not somebody's wallet.
That's it for tonight. Thanks for joining us as we get back into the groove! Don't forget to keep your eyes out for the new podcast (and any other surprises that may show up – like last week's podcast!)
To thank you for reading and the chance to bust out paint.net again!