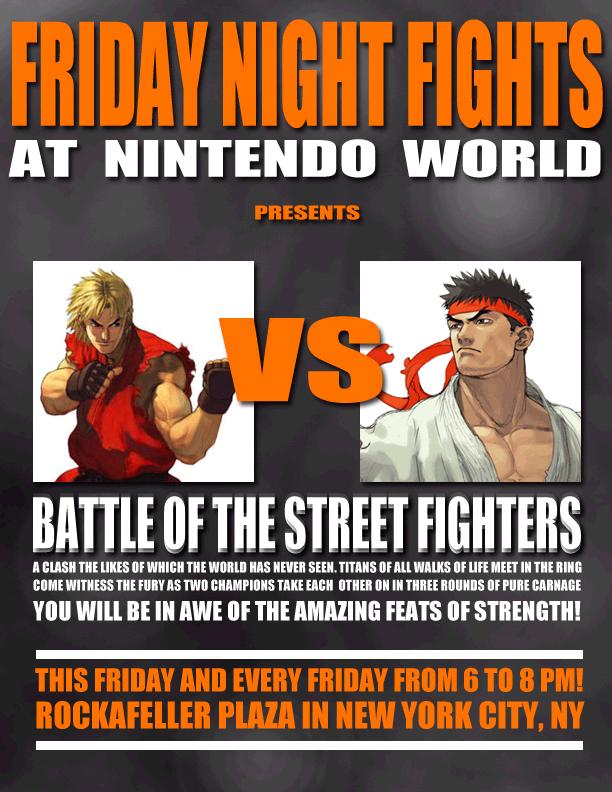 If your travels bring you to New York's Rockefeller Center, make sure you bring your Nintendo 3DS and stop by the Nintendo World Store for "Friday Night Fights" (FNF) – equal parts Nintendo 3DS workshop and friendly competition amongst fighting-genre gamers.
FNF provides fighting game fans an opportunity to go head-to-head in a friendly and open environment that caters as much to a hardcore gamer as it does to those starting out or intimidated by the tournament scene. Though to some, Nintendo showcasing a fighting game with a Teen-rating might seem like a departure from their core audience, Nintendo World's general manager, Lisa Feldman, respectfully disagrees. "Nintendo World draws in all gamers, from young children just learning about Mario and Nintendo to adults who are drawn by the nostalgia factor. [Friday Night Fights] is just another way we are promoting social gaming."
And if there's any way to describe the atmosphere at FNF, social is definitely what it is. FNF has been running for a little over a month now and has hosted everyone from the curious onlooker to the hardcore gamers like the StreetPass Facebook Group. It truly was a hodgepodge of every kind of gamer all learning and sharing strategy tips; most importantly, they were enjoying the friendly competition.
Aside from being an opportunity for gamers to show what they've got, FNF gives Nintendo an opportunity to showcase what the 3DS is working with. In all honesty, my opinion of the handheld being a bit gimmicky has changed. Nintendo World's event gives gamers an opportunity to see what the handheld is truly capable of and use some of the features that they may have never gave much thought to. Event coordinators, Joel and Carlos, walked this noob through the ins and outs of setting up StreetPass, putting together a team for the token battles and gave some pointers for actual gameplay. (Maybe we should do a full review? Let me know in the comments.)
Friday Night Fights is the brainchild of Joel and another coworker at Nintendo World and has been running since April 15th. It's a clear sign of what to expect from Nintendo in the future: a more social, gamer friendly corporation that not only wants to win gamers over in the online space but also by getting them involved with other gamers away from an IP address. These days that's the kind of interaction that is missing from many games, kudos to Nintendo for both acknowledging the fact and promoting games that allow everyone to enjoy multiplayer interaction – whether it be online or in person.
Both Joel and Lisa have confirmed that Friday Night Fights will be an ongoing event and will feature other games in the future. The next featured title is expected to be Dead or Alive out later this month, but as Lisa stated, "come by with your 3DS even if we're not hosting an event;" I'm sure they'll love to have you swing by.