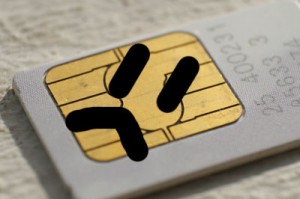 Today Bloomberg broke news of Apple possibly working on an iPhone Jr, a mid-range device that is a third smaller than the current iPhone and possibly $200 off contract. Also reported was a rumor that Apple is working on a Universal SIM concept that will allow iPhone users to bounce freely between carriers without having to change their SIM card. This isn't surprising, considering how Apple is most likely going to be using a pentaband chip in the future iPhone, allowing it to work on both CDMA and GSM carriers. In fact, the current Qualcomm chip in the Verizon iPhone is said to have such capabilities, with the GSM bands disabled. This definitely doesn't mean the beginning of the end for the SIM card, but it surely means more power to the consumer.
With SIM cards being universally synonymous with GSM phones all over the world, it is hard to conceive a GSM phone that runs without one. In fact, there are entire continents out there that rely heavily on GSM and SIM cards (helooooooo Europe). SIM cards are also a symbol of consumer freedom in the mobile world, allowing people to switch between carriers whenever they want to (provided the carrier gives them an unlock code for their phone). In fact, in some areas it's the law such as the European Union's Unfair Commercial Practices Directive 2005/29/EC which pretty much says you can't lock down your phone to your carrier only, something which is unheard of with CDMA carriers in the U.S.
Apple has been rumored to be working with digital security company Gemalto to develop a Universal SIM technology since mid-2010. With Apple being the dominant spouse in its relationship with carriers and the release of the Verizon iPhone it matters not to Apple where consumers purchase their product as long as they do. A Universal SIM that allows consumers to switch freely between carriers, be it GSM or CDMA, will theoretically launch a bidding war between carriers in order to attract consumers. No longer will it be that you can only go to Carrier X or Carrier Y for the iPhone, but you can go wherever you please. The selling point of the iPhone used to be that carriers had exclusivity for it. Now, their selling point will be how much they can offer consumers.
In theory, competition between carriers with the same device will focus on sweetening deals with perks, cheaper prices, and improved network performance in order to attract customers. There are two winners in this arrangement, the first and most obvious being the consumers as carriers will focus more on wooing them with better deals. Better deals leads to fatter wallets which leads to happy sheeple. The second, and probably the biggest winner in this arrangement, is Apple. With a Universal SIM Apple will have greater control over the distribution of the iPhone and its sales, instead of relying heavily on carriers.
Granted, the iPhone sells itself but the iPhone is also a maturing product whose dominance is threatened by increasingly powerful competition from Android, Windows Phone 7, and webOS (sorry RIM). Apple's strategy must shift from a precision shot to a widespread shotgun blast in order to continue to maximize its sales and profits while maintaining the dominance it has in the mobile market today. So will we see the Universal SIM in the iPhone 5? Unknown, but it is something that is inevitable, especially since it is Apple's surest and easiest way to continue having its cake and eating it too.