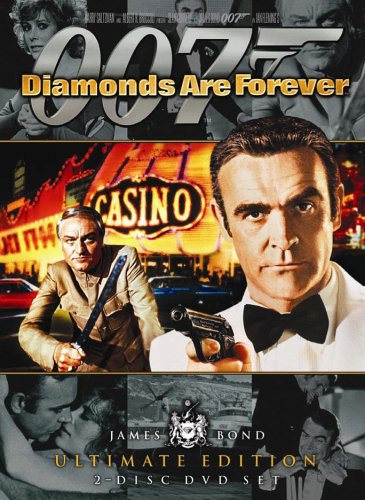 To the Summary!
James Bond goes after some hot ice (that's stolen diamonds).  Along the way he runs into an odd pair of assassins   Oh, and Blofeld makes a return.
To the Cast!
Sean Connery – James Bond
Jill St. John – Tiffany Case
Charles Grey – Blofeld
Putter Smith – Mr. Kidd
Bruce Glover – Mr. Wint
Norman Burton – Leiter
Bernard Lee – 'M'
Desmond Llewelyn – 'Q'
Lois Maxwell – Miss Moneypenny
To the Deeper Thoughts!
Here we have the triumphant (?) return of Sean Connery to the Bond franchise.  Turns out this will truly be his last outing, but I digress.
Ahh, hell.  Back to digressing.  After a much publicized departure, Sean Connery returns to the role that made him famous.  We also have the return of Bond's nemesis Bloefeld.  Oddly, there was no reference to the previous film where Blofeld is involved in the murder of Bond's wife, but that's for another review.
I like this one.  Even though Connery was basically bribed back to the role, he still put out a pretty good turn.  A bit on the silly side (Bond girl named Pleanty O'toole for one), its still not as bad as some of the later Moore ones.
So, a fitting end for Connery's run as Bond.  Unless you count Never Say Never Again… which I don't.