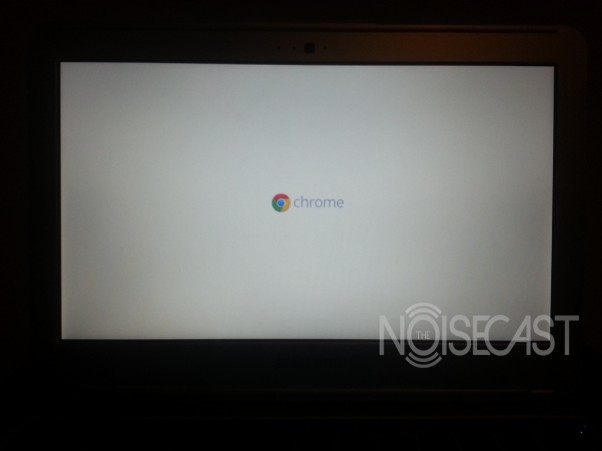 First things first, unboxing and initial impressions. Packaging was very straightforward, giving you everything you'd expect; the Chromebook, a charging cable, and paperwork along with a Chrome logo sticker. Upon first startup we were asked to first choose a wifi network, and then login to a Gmail account. After logging in a new tab page opens with a brief walkthrough of the Chromebook and how it differs from Chrome itself and other Operating Systems. After going through that you see a standard "New Tab Page" in Chrome.  It also automatically syncs all extensions and themes associated with your Google Account. Initial setup was limited to choosing a background (using an image stored locally or from your Google Drive) and setting the clock which defaults to Pacific Standard Time.
As far as hardware goes we were pretty satisfied. The Chiclet style keyboard will be familiar to any Apple user and is a joy to use. The top row Chrome keys are very helpful and have alternate functions that we weren't aware of before this review. For example you can use one of the keys + alt to take a screen-cap that saves automatically to your files. The only complaint we have with the keyboard is that it isn't backlit but that's not to be expected at this price point.  The track pad is one of the best we've seen in recent memory. You can tap to click or push hard and click, the scroll function works fairly well, and after adjusting track speed it works as desired.
As far as daily use goes this machine would work perfectly as a second device or even primary device depending on what you use it for.  If all you need is a machine that will quickly browse the web and give you above average battery life this would be perfect for you.  Power users and people who need a machine capable of running .exe's would enjoy having this around as a portable, accessible, secondary device. As Google says there is a Chromebook for everyone.
Now for the negatives, of which there are few and they are mostly tolerable. The speakers are almost useless. The sound the produce is weak at best and only able to be heard in a very quiet space. When you can hear them the sound produced is tinny and easily muffled as the speakers are mounted on the bottom of the body.  The screen is adequate but the viewing angle can get very annoying but it is still crisp and delivers decent color. If you move around a lot or adjust the computer during use you will inevitably be constantly adjusting the screen angle.  We aren't sure if it's a screen issue or a software issue but we did notice a random screen flicker, it was very short and quick and reminiscent of "subliminal messaging" as seen in movies and commercials where it appears another screen is quickly flashed over the screen for a microsecond. It was a small annoyance at best but it is noticeable. Scrolling on the touchpad can be touchy (pun intended) while holding one finger and sliding the other sometimes the pointer will still move down the screen and stop you from scrolling. This along with the option of "center clicking" pushed us over the edge to use an external mouse.
Last but not least we did unexpectedly have the machine reset itself to factory defaults. After closing the lid and coming back to it later we opened the Chromebook and were looking at the new user setup screen. This was scary at first but after logging in we found that once again all we had to do was set the clock and wallpaper.  Even images and documents saved to the local hard drive were still available. Again, minor but it was a flaw.
Overall we were very satisfied with the Samsung Series 3 Chromebook.  For the price point the build quality is exceptional lacking any unwanted creaks or squeaks and feeling pretty solid overall.  The sleek body is backed up by a mostly reliable and frequently updated operating system.  We consistently saw 6-8 hours on a single charge depending on use.  At the price point we would highly recommend putting this machine up against any similarly priced tablet or netbook on the market.
Check out our Samsung Chromebook gallery below: