On Monday with a single tweet Justin Timberlake announced the new My Space.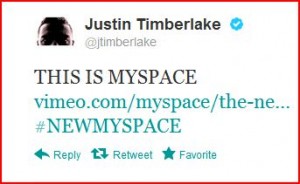 The new MySpace was shown in a Vimeo Video but from the video it looks like another version of Pinterest. Instead of wedding dresses, food, and cats there will be a lot of music featured. Justin Timberlake, an actor and former pop star is one of the investors.
MySpace was sold by News Corp. in 2011 for $35 million and purchased by Specific Media.  Myspace's new management includes CEO Tim Vanderhook, his COO brother Chris Vanderhook, and minority investor  Justin Timberlake.
The new Myspace from Myspace on Vimeo.
It will be interesting to see how well they fit in the current over saturated social media market.
[quote] "Aimed at a Gen Y audience, Myspace drives social interaction by providing a highly personalized experience around entertainment and connecting people to the music, celebrities, TV, movies, and games that they love. These entertainment experiences are available through multiple platforms, including online, mobile devices, and offline events."[/quote]
The main business of Specific Media is search engine optimization and advertising .  It would not be surprising if that is  integrated with their entertainment attempt on social media.  Their target audience is Gen Y whose Facebook addiction is well documented. It will be interesting to see if they are successful in moving their target demographic away from Facebook. It may be possible that no one will notice or care that MySpace is back and they will remain a part of internet history.