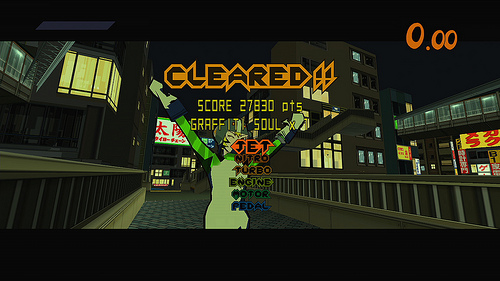 It's been about 15 years since we last saw Jet and his gang of skating graffiti artists bring freedom of expression to back to the people of Tokyo-cho, and now Sega has finally made Jet Set Radio HD's release date and price official. Jet Set Radio HD will be available in mid-September for $9.99 on Steam, PS3, PS Vita, XBox 360, and PC.
Playstation Plus members can get the game a week before everyone else, September 11th; non Plus members will be able to download it on September 18th and everyone else on September 19th.
Jet Set Radio was a cult classic that influenced many of the games of its era. It's cell-shaded animation style was a refreshing and visually stunning break from the typical polygon approach of other games and it had one kick ass soundtrack (which I'm happy to say includes most, if not all, of the original soundtrack – a feat not short of amazing these days). Check out the E3 trailer below and a soundtrack bonus (because why not).