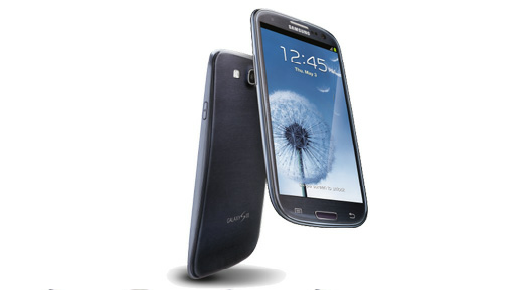 The Samsung Galaxy S III is the quite possibly the hottest Android handset of the moment, but unfortunately for the unwashed American masses, all we could do is eagerly await news of official release dates from our carriers. The wait for official confirmation has ended; Verizon will be taking pre-orders beginning tomorrow, June 6th, and T-Mobile announced that they will beginning offering the Galaxy S III starting on June 21.
Along with news of the pre-order date, Verizon has also announced the price for both the 16GB and 32GB models; expect to part with $200 for a 16GB model and $50 more for a 32GB model plus a 2-year blood contract.
T-mobile hasn't announced pricing at the time of this writing, but feel free to check out their full press release below.
Thinking about getting either version of the Galaxy S III? Let us know in the comments.
[toggle_simple title="T-Mobile to Debut the Samsung Galaxy S III on June 21″ width="Width of toggle box"]
Latest in Galaxy S series brings fast group sharing and on-the-go entertainment all running on America's Largest 4G Network®
Bellevue, Wash. — Jun. 3, 2012
2012-06-04 11:09:42
T-Mobile USA, Inc., the No. 1 mobile operator brand in Samsung Galaxy S sales, and Samsung Telecommunications America (Samsung Mobile), the No. 1 mobile phone provider in the U.S. and the No. 1 smartphone provider worldwide,1 announced the upcoming release of the highly anticipated Samsung Galaxy S® III. Starting June 21, T-Mobile® customers will have the opportunity to own one of the most innovative smartphones in the market to date, joining the popular Galaxy S family of devices.
The Samsung Galaxy S III is one of T-Mobile's fastest 4G (HSPA+ 42 technology) smartphones. With an intuitive design, the Galaxy S III enables customers to share photos, videos and more effortlessly to a compatible TV or other Galaxy S III devices. Featuring a beautiful 4.8-inch HD Super AMOLED™ screen, the Galaxy S III packs a powerful entertainment experience allowing customers to watch HD movies and TV shows, download apps and securely browse the Web at lightning-fast speeds on America's Largest 4G Network®.
"We have a tremendous history of working with Samsung to bring cutting-edge devices to market, and we know our customers are excited to get their hands on the Galaxy S III," said Brad Duea, senior vice president, product management, T-Mobile USA. "As we continue to aggressively compete, this device is yet another example of how T-Mobile delivers amazing devices and 4G experiences to our customers."
Galaxy S III Key Features
Connecting and Sharing: Imagine shooting a video with a group of friends and being able to share it immediately with others in the group. The Galaxy S III enables group sharing via Wi-Fi Direct™ so that content such as a video or photo on one device can easily be shared with up to five other Galaxy S III devices. That same video or photo can also be viewed by the group on a compatible big screen TV, such as a SmartTV, using  AllShare®. With an advanced 8-megapixel camera with LED flash and zero shutter lag and a 1.9-megapixel front-facing camera, the Galaxy S III will capture beautiful HD videos and photos that are perfect to share.
Entertainment: Whether waiting for an appointment or commuting on the bus, customers can take in the latest action movie in full HD from Samsung Media Hub or catch their favorite TV show with T-Mobile TV in Mobile HD2. Images appear crisp and clear on the Galaxy S III's 4.8-inch HD Super AMOLED screen, bringing entertainment to life on the device. In addition, customers can choose between 16 GB or 32 GB of internal memory, and have the option for expandable memory via a MicroSD slot, providing plenty of storage for downloading movies, music, games and other apps. Featuring Android™ 4.0 (Ice Cream Sandwich) and a Qualcomm® Snapdragon™ S4 Processor with 1.5 GHz Dual-Core CPUs and 2GB of RAM, the Galaxy S III also offers a large, 2100mAh battery to power hours of on-the-go entertainment. 
Productivity: For customers who want to use the device in their business and personal lives, T-Mobile's Galaxy S III offers a suite of security features delivering enterprise-friendly capabilities. From syncing corporate email, calendars and contacts to providing on-device encryption, the Galaxy S III makes it easy to maximize efficiency and productivity for enterprise users. T-Mobile customers also have access to Wi-Fi Calling and the Smartphone Mobile HotSpot feature ensuring easy and reliable connectivity while on the road.
Availability
The Samsung Galaxy S III is expected to arrive in a metallic blue or ceramic white color at T-Mobile retail stores and select retailers nationwide, and at www.t-mobile.com starting June 21.
To learn more about the Samsung Galaxy S III, visit http://galaxy-s.t-mobile.com/samsung-galaxy-s3.
[/toggle_simple]