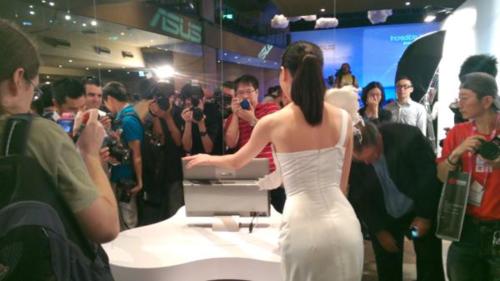 The rear looks pretty nice. So does the new Transformer AIO.#Computex2012
The tweet heard 'round the world. Just as the New York Times managed to put its foot in its proverbial mouth after they very incorrectly claimed that "men invented the internet;" ASUS apparently hoped to double down on the Times' assertion and further alienate women in tech. The offending tweet (shown above with picture) was pulled down but not before it was retweeted, screen captured, and caused something of a PR nightmare for the Taiwanese brand of cheap plastic computers.
The article below comes from friend of The Noisecast, tech junkie, cat wrangler and all-around super mom Tawnie. (ed.)
This is 2012, the 21st century. Women are still fighting for their rights just as we were in the 1920s through the 1960s. We are still fighting for equal pay while working hard in every industry. This includes the tech industry. We need more progress in the tech industry image just as we need more progress in technology itself.
Models and pretty girls are not progressing any image. It is only further advancing a stereotype that the models will sell products. This is not the 1950s where your Cadillac was shown off by a model on television. In this day and age your computer, device, or software should be enough to sell itself. Let your product do the talking without trying to use old ad men tricks that allow for hyper-sexualized imagery.
Asus should take another look at itself for using such tactics. Instead that very tweet still remains published over four hours after it was sent. This tweet was sent the same day that E3 starts. E3 banned "booth babes" in 2006. Computex should be doing the same.
The tech sector needs to address these gender issues in order to progress. Women in tech may be few right now but that is rapidly changing. In the past year alone there have been two women CEOs appointed, Meg Whitman of HP and Ginni Rometty of IBM. Along with this change we need the image to change. It is not ok to use sexual imagery of women to sell your products, instead encourage women to develop your products. Encourage young women to become engineers, developers, designers. Not only will this revive the tech industry image, it will also encourage sales.
 "Women are frequently the product buyers – and once she owns a CE product, she becomes a heavy user, most particularly for devices that allow sharing and uploading content and downloading TV programs," said Tricia Parks, CEO, Parks Associates. "CE manufacturers are picking up on this changed buyer, offering their products, particularly their mobile ones, in more colors and styles with more personalized accessories."
That does not mean pointing out the models rear in your new product demonstration will get women to buy your products. It will do the exact opposite. If you want women customers then stop with the hyper-sexualized imagery and start hiring them.
The tech industry needs to drop the good old boys club image and work to encourage and welcome women into the industry. Enough with the models, the brogrammers, and the good ol boys club. If you do not change your image then you can not progress as an industry. Women will find other products to buy that will be more friendly to their rights, their abilities, and their intelligence.