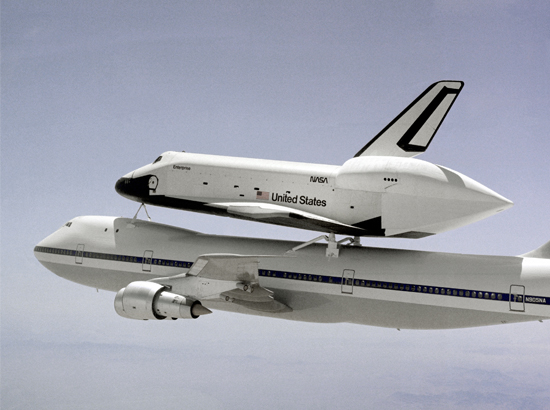 Later this morning, Space Shuttle Enterprise will be making her way to her new (and permanent) home at the Intrepid Sea, Air, and Space Museum in Manhattan's West Side. It will be truly an historic event along with a once-in-a-lifetime chance to see the Shuttle piggybacked on a 747 Jumbo jet. If this doesn't sound awesome to you, I don't want to know you.
If you're in the NYC area and want to catch a glimpse of the Enterprise's flight home, there are plenty of spots to choose from; thanks to diligent work of NYC Aviation we present you with some of the better spots to see the Enterprise:
Pier 86 (free and will be open to the public starting at 8:30) and the flight deck of Intrepid Sea, Air, and Space Museum. The museum will open early (8:30AM)  and tickets will set you back $24.
Battery Park City should have views of the Shuttle appearing just South of the Statue of Liberty. The Shuttle should be about 1500 ft. at this point in it's lap around the Hudson.
Brooklyn Promenade  should offer good views of the Shuttle Carrier and the Statue of Liberty
If you plan on heading out to catch a glimpse of the Shuttle Carrier, make sure to get there early and expect a crowd. For more info be sure to click the source link for additional locations and other tips from the good folks at NYC Aviation.