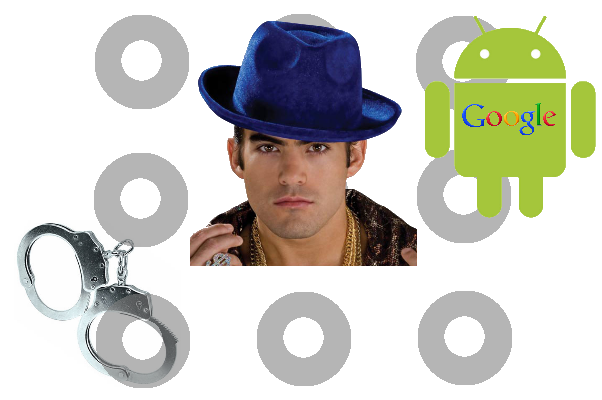 Maybe it's out of shear badassness that I don't ever put a lock pattern on my phone. Maybe I'm just asking for trouble. In either case, the FBI has served a warrant on Google to compel them to provide them with the name, address, and social security number as well as the unlock pattern or information on how to disable the unlock pattern of an accused pimp's pre-paid Android device.
The alleged pimp, Dante Dears, was convicted of running the group Pimpin' Hoes Daily (sic) in 2005 and shortly after his release, violated the terms of his parole. In 2011 after being released again, Dears, allegedly resumed operations from his cellphone – owning a cellphone and not notifying his parole officer being a clear violation of his parole. According to the FBI's source, Dears entire pimping operation could have been sunk by the contents of his throwaway pre-paid Samsung Android phone.
The FBI up until recently did no have a warrant to search his phone. A fact that has tripped up their investigation of Dears' activities. Since Dears had a pattern lock on his phone, the government could not compel him to divulge his unlock pattern or the contents of his phone. Until now.
Unable to obtain the passcode from Dears, the FBI has gotten a warrant to compel Google to disclose among other things, the passcode or instructions on how to bypass Dears' passcode.
It's no shocker that folks who dabble in illicit businesses will most likely conduct their shady transactions using some kind of prepaid option – ID isn't a must, you can pay your bill in cash, and no background check is required for service. However, this latest granted warrant could potentially spell the end of the throwaway pre-paid device. So much for the security of that pattern lock baked into Android devices.