Alright folks, it's time to announce the winner of our latest Noisecast contest. In case you don't remember, we asked you to design us a Myspace (or similarly outdated social network) fan page. It's taken a week to post the results because we had to laboriously pore over all of the entries.
Not really. There was only one. I'm disappointed in all of you. But I can tell you who I'm not disappointed in. Our fabulous winner and loyal Noisecast supporter, Chris Edwards! Don't think he simply won by default though, his contribution is sufficiently terrible and exactly what we were looking for. Just take a look for yourself: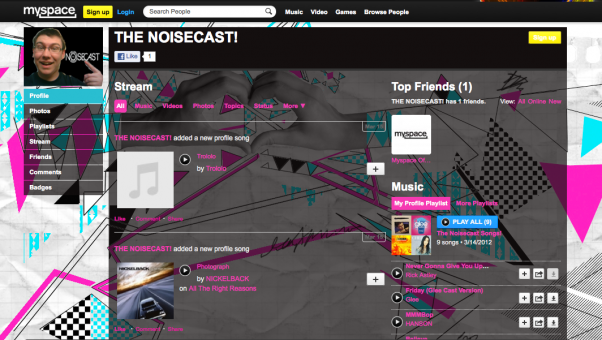 Chris really captured the 80's with that terrible color scheme. He even went the extra mile to post a bunch of cringe-worthy songs and animated GIFs in the comments. Very well done, Chris. You've not only ruined our eyes, but our ears too.
For his trouble, Chris has won some sweet Noisecast decals as well as our eternal gratitude. And you can't put a price on that.