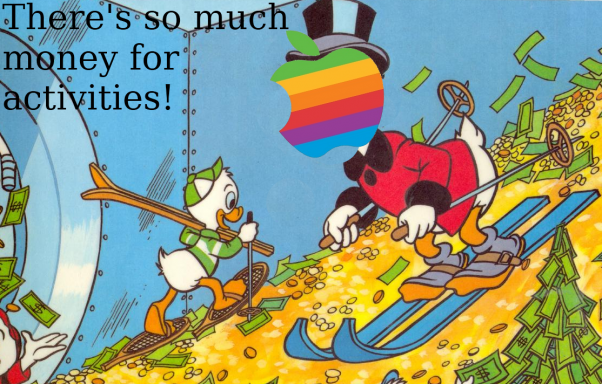 It's been a long standing fact that Apple had hoarded money better than any of its competitors. Since 2007 (the year of the iPhone), Apple built up a significant war chest of nearly $100 billion in cash and securities. This comically large number has been the joy/bane of those in the finance industry in hopes to predict Apple's next moves and or the day shareholders can get a little piece of that $100 billion.
Well the wait is finally over and some shareholders will be very pleased – Apple will begin paying out (a modest) dividend to their shareholders and take $10B to buy back some stock. Sure this is not as exciting for you and I in terms of seeing a significant price drop in the aluminum goodies that they make. And for those of you waiting on that Apple made television, why would you think they'd announce it on an earnings call? A dividend is a no-brainer, it was only a matter of time before shareholders would begin to get nervous about not seeing some sort of return on their investment. For Apple, paying out a dividend means that certain funds can now buy Apple stock for the first time – which means growth to the world's current richest company.
Below is the full press release if you're into that sort of thing and while shareholders are eagerly waiting for Apple's fiscal 4th Quarter, I'll be waiting for the new iPad to hit the refurb market.
[toggle_simple title="Apple Announces Plans to Initiate Dividend and Share Repurchase Program" width="Width of toggle box"]
Expects to Spend $45 Billion Over Three Years
CUPERTINO, California—March 19, 2012—Apple® today announced plans to initiate a dividend and share repurchase program commencing later this year.
Subject to declaration by the Board of Directors, the Company plans to initiate a quarterly dividend of $2.65 per share sometime in the fourth quarter of its fiscal 2012, which begins on July 1, 2012.
Additionally, the Company's Board of Directors has authorized a $10 billion share repurchase program commencing in the Company's fiscal 2013, which begins on September 30, 2012. The repurchase program is expected to be executed over three years, with the primary objective of neutralizing the impact of dilution from future employee equity grants and employee stock purchase programs.
"We have used some of our cash to make great investments in our business through increased research and development, acquisitions, new retail store openings, strategic prepayments and capital expenditures in our supply chain, and building out our infrastructure. You'll see more of all of these in the future," said Tim Cook, Apple's CEO. "Even with these investments, we can maintain a war chest for strategic opportunities and have plenty of cash to run our business. So we are going to initiate a dividend and share repurchase program."
"Combining dividends, share repurchases, and cash used to net-share-settle vesting RSUs, we anticipate utilizing approximately $45 billion of domestic cash in the first three years of our programs," said Peter Oppenheimer, Apple's CFO. "We are extremely confident in our future and see tremendous opportunities ahead."
Apple will provide live streaming of a conference call to discuss its plans beginning at 6:00 a.m. PDT on Monday, March 19, 2012 at www.apple.com/quicktime/qtv/call31912. The Company will not be providing an update on the current quarter nor will any topics be discussed other than cash. This webcast will also be available for replay for approximately two weeks thereafter.
This press release contains forward-looking statements including without limitation those regarding future business outlook and plans for dividends and share repurchases. These statements involve risks and uncertainties, and actual results may differ. Risks and uncertainties include without limitation the effect of competitive and economic factors, and the Company's reaction to those factors, on consumer and business buying decisions with respect to the Company's products; continued competitive pressures in the marketplace; the ability of the Company to deliver to the marketplace and stimulate customer demand for new programs, products, and technological innovations on a timely basis; the effect that product introductions and transitions, changes in product pricing or mix, and/or increases in component costs could have on the Company's gross margin; the inventory risk associated with the Company's need to order or commit to order product components in advance of customer orders; the continued availability on acceptable terms, or at all, of certain components and services essential to the Company's business currently obtained by the Company from sole or limited sources; the effect that the Company's dependency on manufacturing and logistics services provided by third parties may have on the quality, quantity or cost of products manufactured or services rendered; risks associated with the Company's international operations; the Company's reliance on third-party intellectual property and digital content; the potential impact of a finding that the Company has infringed on the intellectual property rights of others; the Company's dependency on the performance of distributors, carriers and other resellers of the Company's products; the effect that product and service quality problems could have on the Company's sales and operating profits; the continued service and availability of key executives and employees; war, terrorism, public health issues, natural disasters, and other circumstances that could disrupt supply, delivery, or demand of products; and unfavorable results of other legal proceedings. More information on potential factors that could affect the Company's financial results is included from time to time in the "Risk Factors" and "Management's Discussion and Analysis of Financial Condition and Results of Operations" sections of the Company's public reports filed with the SEC, including the Company's Form 10-K for the fiscal year ended September 24, 2011 and its Form 10-Q for the fiscal quarter ended December 31, 2011. The Company assumes no obligation to update any forward-looking statements or information, which speak as of their respective dates.
Apple designs Macs, the best personal computers in the world, along with OS X, iLife, iWork and professional software. Apple leads the digital music revolution with its iPods and iTunes online store. Apple has reinvented the mobile phone with its revolutionary iPhone and App Store, and is defining the future of mobile media and computing devices with iPad. [/toggle_simple]